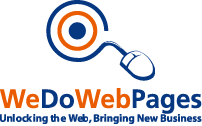 By 2013, eMarketer estimates 62 percent of Web users and almost half (47.6 percent) of the overall US population will be on Facebook
Dallas, TX (Vocus/PRWEB) February 24, 2011
As recently reported online, search engine giant Google has made enhancements to its Social Search feature that may be of interest to web marketers everywhere. Social Search, which facilitates search responses being taken from a user's digital connections and displayed, is reportedly being given more status within search query results. Social media marketing, website design and small business search engine marketing firm, We Do Web Pages discusses the impact the changes will have for professionals seeking to broaden their presence on the web.
A Progressive Opportunity
With social media outlets now taking on a major role in the Internet based marketing initiatives of companies and firms across multiple industries, major search engines are now more open to re-considering the role of social media in search. Google's recognition of social media prominence has been credited in reports as being a factor in influencing the decision to give Social Search a more pronounced role in query results. Changes include annotated matches from connected accounts in query responses and the showcasing of where the information was shared, such as a publicly viewable post on Facebook or Twitter.
By 2013, eMarketer estimates 62 percent of Web users and almost half (47.6 percent) of the overall US population will be on Facebook.
We Do Web Pages team members state the changes represent a progressive opportunity for business professionals, making their social media marketing efforts more worthwhile. Not only do they project it will help drive home the importance of social media based marketing initiatives in the overall strategies of companies, but also give entities with smaller marketing budgets an opportunity to expand their online presence. We Do Web Pages welcomes professionals across multiple fields to contact them today by visiting http://www.wedowebpages.com or calling 214-379-7436 for more information about how the company's services can benefit one's needs.
About We Do Web Pages
We Do Web Pages is a boutique internet marketing company based in Dallas, Texas. The company specializes in Social Media & SEO based services that help companies increase their brand recognition by expanding their presence on the web. The company welcomes attorneys, law firms, corporate professionals, and others to visit http://www.wedowebpages.com today to obtain a free consultation with an SEO expert.
For more information about We Do Web Pages, or the services provided by the company, please visit http://www.wedowebpages.com, or call 214-379-7436 to speak with someone directly about beginning an important project.
###