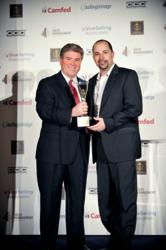 Miami Beach, FL (Vocus/PRWEB) February 24, 2011
Chapel Hill, N.C.-based American Support, a provider of support services for video, voice and data companies, was named the 2011 Stevie Award winner for New Cable Industry Contact Center Solution during an award presentation Feb. 21.
The award, presented during a banquet at the Eden Roc Renaissance Hotel in Miami Beach, recognizes American Support for its Cable Customer Care Solution, which was developed to empower cable companies to use 100% American customer support.
"American Support is dedicated to providing the best customer service possible, and by taking advantage of new technology and an entirely American workforce, the company was able to substantially improve the quality of the service its representatives provide," said Matt Zemon, president and CEO of American Support. "This great award truly reflects the value our employees bring to our clients and their subscribers."
In 2010, American Support developed a comprehensive cable industry customer care solution. The system has resulted in improved productivity and cost savings for their clients. The American Support Cable Customer Care Solution has seven key features:
1. Client offices and Virtual Agent Call Routing: We route calls to our clients' employees when they are "not busy." When they are unavailable, calls are automatically routed to an American Support virtual home customer service representatives. The result is an increase in productivity for American Support's clients' employees and a decrease in what the client spends on its "outsourced" services.
2. Automated recruiting tool: The American Support automated recruiting tool allows it to filter out 89.3% of prospects without any human interaction, dramatically reducing its recruiting costs and increasing the quality of the employees that are hired.
3. Cable Customer Service Guided Call Flows: There are 14 primary call types in the cable industry. American Support has created guided scripts with embedded policies, procedures and how-to guides to enable its employees to handle complex calls with greater than 90 percent accuracy and consistency.
4. Automated Cable Job comments and Customer Interaction Notes: As American Support customer service representatives work their way through the guided call flows, comments needed for the work order and customer interaction notes are automatically created, reducing talk time and increasing accuracy.
5. Customized Policies and Procedures Portals: Embedded into the guided call flow screens are web portals containing hundreds of policies organized into nine categories that are consistent from client to client.
6. 100% Virtual Training: 80 hours of interactive learning specifically designed for the cable industry are now available online, reducing our training costs.
7. Automatic Promised Call Backs: In severe weather and technical outage situations, during which call volume spikes, American Support is able to maintain high customer satisfaction levels by offering callers the option to hold their place in line and receive an automatic call back when the next customer service representative is available.
The new system also enabled American Support to improve its customer representative recruiting process, improve accuracy and consistency in service calls, increase productivity and provide automatic call backs during high volume periods.
To learn more about American Support, go online to:
http://www.americansupport.com/about-us/american-support-awards/2011-stevie-award-winner
About American Support
American Support is a Chapel Hill, NC-based company whose mission is to help video, voice and data companies succeed by operating efficiently, consistently and with excellent customer service, making life better for its clients, employees, investors and families, while supporting its country.
American Support currently supports over 400 cable systems in 29 states.
In January 2008, American Support was named Preferred Billing and Customer Care Provider for the National Cable Television Cooperative (NCTC). American Support was formerly known as Element Customer Care, powered by CSG Systems. For more information, please visit: American Support.
From coast to coast, American Support's team provides three primary services for its customers:
American Subscriber Management: Powered by CSG Systems, American Subscriber Management provides software and services based solutions that help its clients increase revenue by better engaging, billing and transacting with their customers.
American Customer Service: US-based video, voice and data customer care handling all subscriber phone and email contacts with an emphasis on increasing ARPU and decreasing subscriber churn.
American Technical Support: US-based technical support and NOC services along with Sigma Systems Device Provisioning Manager, NetOmnia™ Fault and Performance Monitoring and a private label email solution.
About the Stevie Awards
Stevie Awards are conferred in four programs: The American Business Awards, The International Business Awards, the Stevie Awards for Women in Business, and the Stevie Awards for Sales & Customer Service. Honoring organizations of all types and sizes and the people behind them, the Stevies recognize outstanding performances in the workplace worldwide. Learn more about The Stevie Awards at http://www.stevieawards.com.
# # #