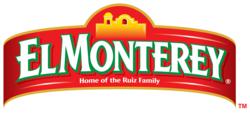 Each product in our Mexican line is easy to prepare offering today's consumer convenience, quality and value.
Dinuba, CA (Vocus/PRWEB) February 25, 2011
El Monterey, a brand of Dinuba, Calif.-based Ruiz Foods, Inc. announces a partnership with Stewart-Haas Racing.
El Monterey, the #1 frozen Mexican food brand in the United States, will adorn Tony Stewart's No. 14 Chevrolet Impala as an associate sponsor on a portion of the lower-area quarterpanel for the entire 2011 Sprint Cup race series.
"With a strong national fan base that is growing once again, NASCAR is the ideal platform for our El Monterey brand to extend its reach to the consumer," said Bryce Ruiz, president and CEO of Ruiz Foods. "Our El Monterey products are perfect for every eating occasion – particularly race day gatherings. Each product in our Mexican line is easy to prepare offering today's consumer convenience, quality and value."
Ruiz Foods' popular frozen snack brand – Tornados – is the primary sponsor of Ryan Newman's No. 39 Chevrolet Impala for five Sprint Cup races in 2011. Tornados' NASCAR sponsorship began in 2010.
El Monterey offers a wide variety of frozen Mexican snacks to include: taquitos, burritos, quesadillas, mini chimis, tamales, etc. that are perfect for every eating occasion.
Beginning April 1, 2011, El Monterey and Tony Stewart will partner for a retail and foodservice on-pack promotion involving integrated media outlets to include facebook, in-store promotion and fsi's distributed nationally. Full details to come.
About RUIZ FOODS, INC.:
Ruiz Foods is a privately owned corporation with corporate offices in Dinuba, Calif. Third-generation Bryce Ruiz, the elder son, is president and CEO. Kim Ruiz Beck, the elder daughter of Co-Founder and Chairman Emeritus, Fred Ruiz, is chairman. Ruiz Foods is dedicated to premium quality, authentically prepared frozen foods selling to all channels of distribution: retail, convenience store, clubs, vending, industrial and foodservice. The Tornados® brand, introduced just five years ago, has revolutionized the use of the roller grill in convenience stores and is also available in retail grocery stores nationwide. The El Monterey® brand is the market leader within the frozen Mexican food category and the No. 1 brand of frozen Mexican food in the U.S. Ruiz Foods employs over 2,500 Team Members in three facilities located in the U.S. For more information regarding Ruiz Foods, please visit http://www.El Monterey.com. For more information about Tornados, please visit http://www.myTornados.com.
About STEWART-HAAS RACING:
Stewart-Haas Racing is the NASCAR Sprint Cup Series team co-owned by two-time Sprint Cup champion Tony Stewart and Gene Haas, founder of Haas Automation - the largest CNC machine tool builder in the western world. The team fields two entries in the elite Sprint Cup Series - the No. 14 Office Depot/Mobil 1 Chevrolet Impala for Stewart and the No. 39 Tornados Chevrolet Impala for 2008 Daytona 500 winner Ryan Newman. Based in Kannapolis, N.C., Stewart-Haas Racing operates out of a 140,000-square-foot facility with more than 150 employees. For more information, please visit us on the Web at http://www.StewartHaasRacing.com, on Facebook at http://www.facebook.com/StewartHaasRacing and on Twitter at @StewartHaasRcng.
###