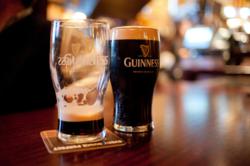 This Paddys Day promises to be savage craic!
St. Louis, MO (Vocus/PRWEB) February 26, 2011
Tigin Irish Pub and Restaurant, located downtown at 333 Washington Ave., is once again throwing a huge outdoor St Patrick's Day party in St. Louis. With celebratory events beginning on Wednesday, March 11 and carrying on through Thursday, March 17, it promises to be a "Week of Savage Craic." Craic (pronounced crack) is a common term used in Ireland to describe fun, entertainment, and enjoyable conversation with good friends. Savage craic means an epic party and is the theme of this year's celebration. The "Week of Savage Craic" will close with an outdoor festival on St. Patrick's Day where Tigin features the best mix of Irish music, food and entertainment in the city.
Friday, March 11th
Whiskey Tasting Night, featuring the Irishman.
Contact the pub for menu and reservations.
Saturday, March 12th ~ St. Patrick's Day Parade
Pub is open early at 7am for Pints and Pancakes! 6 Nations Rugby and Soccer live.
Live music all afternoon in our heated tent. Beat the $5 cover & get here before 11am.
Also, Fire, Police, Rescue, or Military, please bring your ID and skip the cover.
Monday, March 14th
Tullamore Dew Whiskey Dinner. Starts at 6pm. Chef Leland Campbell will provide another great spread with a Whiskey twist! Limited seats, reservations required. Contact the pub for details.
Tuesday, March 15th
Compete to Pour the Perfect Pint of Guinness
Show your skills at Tigín Irish bar during the week of St. Patrick's Day. Compete against other "regular Joes" for the contest. Winners will be those who produce that perfectly foamy, frothy and perfectly drinkable brew. Fun prizes, no RSVP required.
Wednesday, March 16th
All Irish themed Pub Quiz with Quizmaster Josh! Prizes, drink specials and great food, as always!
Thursday, March 17th ~ St. Patrick's Day
Open early at 7a for Pints and Pancakes, no cover until 11a. Get here before 11am and beat the $5 cover. Live music all day in our heated tent!
Remember, Fire, Police, Rescue, or Military, please bring your ID and skip the cover.
Prime downtown St. Louis location
Tigín Irish Pub & Restaurant in conveniently located in the heart of downtown St. Louis on Washington Ave., just down the street from the Convention Center.
Tigín Irish Pub & Restaurant
333 Washington Avenue
St. Louis, Missouri 63102
Call the pub at #314-241-8666
Follow us at @tiginstlouis
Or join the conversation on Facebook
More information is available at http://www.TiginIrishPub.com/StLouis/st-patricks-day-2011.
Tigin is an authentic Irish pub- it was originally designed and built in Ireland and then shipped to St. Louis. Tigin serves more Guinness than any other Irish pub in St. Louis, all of which is to the highest standards. All of our Guinness comes straight from St James Gate, Dublin, Ireland.
To make it a true St. Patrick's Day in St. Louis, Tígin will put special emphasis on proper Irish food and Irish drink. Always served with proper Irish coffees, Baileys Irish cream, and a wide selection of Irish whiskeys. All of our Irish food recipes are prepared from scratch: the traditional Irish Boxty, Corned Beef and Cabbage, and the Irish pub favorite like Fish & Chips. Tigin spares no expense to bring its customers the best Guinness and Irish food in St. Louis.
About Tígin Irish Pub and Restaurant
Tigin (pronounced ti-geen) Irish Pub and Restaurant opened in St. Louis in 2007. Tigin is distinguished by its genuine Irish hospitality, quality and craic (pronounced 'crack', a uniquely Irish form of fun).Tigin has been voted 'Best Of' by a number of local and national publications. Get more information at http://www.TiginIrishPub.com, http://www.facebook.com/TiginSt Louis, or on Twitter @TiginStLouis
Pictures of Irish food, drink and the pub itself are available upon request. Irish barmen and chefs may be available for interviews and pouring and cooking demonstrations.
###