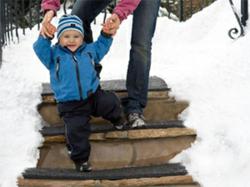 We love our heated stair mats. They are working great during this cold Michigan winter
Cleveland, OH (Vocus/PRWEB) February 25, 2011
Martinson-Nicholls new residential Heated Snow Melting Stair Mats prevent snow and ice accumulation on stairs around your home. Made of customized thermoplastic materials, the mats are portable and can be left outside for the entire winter season. The stair treads can be used individually, or up to 15 connected quickly and easily as demonstrated by the heated stair treads video on Martinson-Nicholls web site.
The heated mats will generate sufficient heat to melt snow at a rate of 2" per hour, leaving steps to your home clean and clear 24/7. The Residential Heated Stair Mat can be used independently or interconnected with one another to create a continuous system of snow melting mats. With the mats' built in watertight connector cables, you can Mix and Match walkway and stair mats to create your perfect snow melting solution - all on a single plug!
Each Heated Stair Mat comes with built in watertight connector cables. A customer can use the watertight connector cables to connect the mats to other residential mats or to a control unit. Every group of Residential Heated Mats requires a GFCI (Ground Fault Circuit Interrupter) control unit to connect the system to an electrical outlet. A customer can connect up to 15 stair mats (up to 15 amps) on a single control unit. Martinson-Nicholls web site includes a calculator that displays the total amperage for the number of mats selected.
"We love our heated stair mats. They are working great during this cold Michigan winter," volunteered one stair treads customer from Lansing, Michigan.
Watertight Cable Extenders come in 20-inch lengths to connect mats on tiered walkways or across landings. Multiple extenders can be plugged together to create custom lengths. Martinson-Nicholls also offers a 25-foot extender to connect the heated treads to the GFCI unit to reach a distant outlet.
About Martinson-Nicholls
Martinson-Nicholls, has established itself as a leader in custom anti-slip tape, heated floor mats, and eco-friendly floor matting for more than 25 years.
Martinson-Nicholls provides the customer with the exact size matting needed--small, large, standard, nonstandard, special shapes and logos. Custom installations are also a specialty of the company.
Anti-slip safety tapes and treads are available in various sizes and textures from hand cut or die cut pieces to full rolls and special shapes. For more information, please visit http://www.floormat.com.
# # #