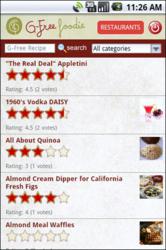 G-Free Foodie makes Gluten Free life safe, easier to manage and more flavorful
Madera, CA (Vocus/PRWEB) February 27, 2011
G-Free Foodie, a resource for living Gluten-Free and eating well, is proud to announce the newest versions of their "Gluten Free Ultimate Solution" App for Apple devices and Android phones. The "Gluten Free Ultimate Solution" App provides locations of thousands US Gluten Free Restaurants near the user's location via GPS and Search Features, and offers hundreds of Gluten Free and Gluten Free-Dairy Free (GFCF) Recipes, many with photos or video. G-Free Foodie's Founder, KC Pomering, said new versions and content should load automatically, and new content will be added to both the Apps frequently. Both version retail for $3.99, and they are available through Andriod Markets and ITunes.
"G-Free Foodie is making Gluten Free life safe, easier to manage and more flavorful," said Pomering. "We're constantly updating the G-Free Foodie website and adding new outlets – like the Gluten Free Apps, our G-Free Foodie Guides and the G-Free Foodie YouTube Channel – because of consumer requests." G-Free Foodie is planning to host its own Gluten Free consumer event on April 30th, 2011 in Central California at Birdstone Winery. The "Eat Well Event" will highlight Gluten Free foods, products produced in Central California and Gluten Free education. Both versions of the "Gluten Free Ultimate Solution" Apps will be available for users to try.
The G-Free Foodie website (http://www.gfreefoodie.com) includes a national database of Gluten Free restaurants, recipes, blogs, reviews of Gluten Free foods, plus Gluten Free products and books. The site is home to G-Free Foodie Guides, with topics ranging from fast food and replacing eggs in recipes to making tax deductions for the Gluten Free diet. Gfreefoodie.com also provides free conversions of conventional recipes to Gluten Free, allowing G-Free Foodies to enjoy favorite meals or continue family traditions safely.
###