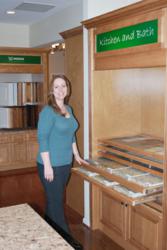 (Vocus/PRWEB) February 26, 2011
Buying a new home involves a variety of important decisions for the new homeowner. They face a huge number of selections, including model, outside finish and color selections, interior fixtures, appliances and surfaces. These choices represent many elements which need to fit together seamlessly.
In the past, buyers have had to make those selections from small rooms crammed with limited and sometimes out-of-date selections. To save space, some builders offer printed materials that don't correctly reproduce actual colors. The result was buyer frustration for what should really be an exciting experience.
The new Design Center from Rouse Chamberlin Homes in Exton Commons fulfills the promise of an exceptional home buying experience.
"A home is the largest single purchase people will make," noted Design Center Manager Danielle Wood. "Home buyers will live in and with their selections for years. Our design center is the best of its kind in the tri-county area and ensures that new home buyers can make the right choices for their families."
The Design Center offers every feature that buyers can use to customize their new homes. That includes hundreds of cabinet wood combinations, hundreds of countertop options and dozens of appliance options. "Our Design Center makes it easy for a buyer to visualize how colors and textures will merge together to become their new home. And we frequently update the Center resources so buyers always have access to the latest color trends and appliance features."
Building an exceptional Design Center is one part of Rouse Chamberlin Homes' commitment to superior buyer satisfaction. Their home building has received dozens of awards plus something even more important: high praise from owners. Rouse Chamberlin Homes' buyers regularly offer exceptional testimonials on their houses years after the purchase. Dave and Janey Hughes' comments are typical: "The quality and professionalism of the entire staff was truly impressive. All aspects of our home buying experience were extraordinarily positive."
"We have extremely high worksmanship requirements," explains Dave England, Rouse Chamberlin Homes President. "Our inspections are more stringent. We build the best quality home people can buy from a variety of aspects. Our buyers still offer us testimonials ten and fifteen years after they purchased their homes. We work hard to ensure that the buying experience is the best anyone can experience, anywhere."
Contact Rouse Chamberlin Homes Design Center at 610-594-3742 or Danielle Wood at dwood(at)RCLTD(dot)com.
Since 1978, Rouse Chamberlin Homes has been building homes and thriving neighborhoods focused on the home buyers' needs. The result has included exceptional customer satisfaction results and industry recognition including "National Builder of the Year" and "America's Best Builder" awards. For more information, visit http://www.RouseChamberlinHomes.com.
###