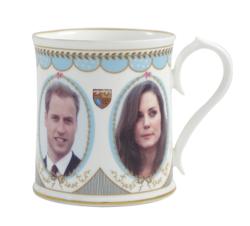 I opened the box and pulled out the tankard. I showed her the picture of Prince William first. She looked at it and took a gasp. I turned the cup, and she saw Kate Middleton. She broke down and cried.
NORTHAMPTON, England (Vocus/PRWEB) February 25, 2011
Stephen Church of Church's China, a U.K.-based retailer that specializes in Royal Commemorative items, says one of the most rewarding aspects of online sales is being able to give a little bit of England to those missing the Motherland – no matter where they are across the globe.
One of those individuals is 93-year-old Ann Gibb of Northampton, Mass. Church recently received an e-mail from Gibb's niece, Michele Sarrazin, about a special piece of Royal Engagement china she ordered as a surprise for her aunt. Gibb, a huge fan of the Royals, resided in England for 46 years and, as the Royal Wedding day of Prince William and Kate approaches, was missing the country terribly. Sarrazin had selected an Aynsley Royal Engagement tankard from The U.K. Gift Company, the Church's China online sales division, feeling the tankard would raise her aunt's spirits. "How soon would it arrive?" inquired Sarrazin. Her aunt had recently suffered the loss of two loved ones in the course of a week and was feeling very down.
Church, taken with Sarrazin's e-mail, forwarded her the only Aynsley Royal Engagement tankard he had in stock – part of an advance supply received specially from the manufacturer.
"I could not believe it when I saw the postmark because the company is in Northampton, England, and we live in Northampton, Mass.!" says Sarrazin. Filled with excitement, she travelled to Northampton's Rockridge Retirement Community to present the tankard to her aunt.
"I showed my aunt the postmark knowing she would be very excited it came straight from England," says Sarrazin. "I opened the box and pulled out the tankard. I showed her the picture of Prince William first. She looked at it and took a gasp. I turned the cup, and she saw Kate Middleton. She broke down and cried. We all did. We knew how much this meant to her."
Following Sarrazin's receipt of the tankard, she and representatives of Church's China struck up a correspondence, and Sarrazin began to share the story behind Gibb's affinity for England.
Gibb, born in Northampton, Mass., was a legal secretary with the Department of Justice in Washington, D.C. when she met life-long friend Angie Raische and her Naval Officer husband, Captain Bob Raische. When the Raisches were transferred to England, they invited Ann for a visit. While on holiday, she met Lieutenant Commander of the Royal Navy Roy Neil Gibb at a cocktail party hosted by the Raisches. Both were swept off their feet and three dates later were engaged.
The couple was married at Woolworth heiress Barbara Hutton's mansion in the English countryside and began their married life in London. Later, Roy Gibb was raised to Full Commander. Gibb went into the publishing industry after more than 30 years in the Royal Navy, yet he and his wife were forever committed to the Royal Crown.
Sarrazin says, "Through his role with the Royal Navy, Uncle Roy was in the Queen's presence many times, including her coronation. He loved the Queen with undying devotion, and Aunt Ann honors that devotion to this day. She is a true Royalist to the end."
Though Gibb never met Queen Elizabeth herself, she was a guest at a Buckingham Palace garden party given by the Queen. "I remember her waving in my direction and smiling," says Gibb. "That was a special day for me. I have always loved the Queen and admire her loyalty to England." Gibb also recounts a time when she saw the recently-wed Princess Diana on London's Adelaide Road driving her own car.
Sarrazin fondly remembers visits over to England to see her aunt and uncle. She also recalls a garden party her aunt threw in honor of Princess Diana's engagement to Prince Charles while visiting Northampton, Mass. "My aunt attended Le Cordon Bleu culinary arts school in London and is a fabulous cook. She prepared a gourmet feast and hosted a big get-together on our patio. She hung a big poster of Charles and Diana so it was like we were celebrating with the Royal couple." To celebrate the wedding of Will and Kate, Sarrazin plans to gather family and friends for tea at her home with her Aunt Ann presiding as the guest of honor.
Gibb moved back to Massachusetts in 1999, soon after her husband passed away, to be close to her family but, she says, her heart remains in Britain. Gibb says the Royal Engagement tankard brought back many fond memories, including Royal milestones from years gone by."Those were such happy times," Gibb says. "We need something like this now because of all that is going on in the world today. It will bring a lot of joy to people and will lift everyone's spirits."
Church adds, "Everyone at Church's China was very moved when Michele shared her aunt's response to the tankard. I am so pleased that the tankard has brought her enjoyment. We will all be thinking of Ann on the day of the wedding, enjoying her English tea as she takes in another Royal milestone."
Church's China, established in 1858, sells a wide range of china and other collectibles. Specializing in royal commemorative memorabilia, the company has locations in Northampton and Market Harborough, England as well as an online division, The U.K. Gift Company. For more information, visit http://www.theukgiftcompany.com.
Media Note: If you would like to arrange for a telephone interview with Stephen Church, please contact Nancy Marshall at nmarshall(at)marshallpr(dot)com or Jennifer Boes at jboes(at)marshallpr(dot)com. Mr. Church will also be available for live interviews in New York City at some point in March 2011. If you are interested, please follow up with Nancy or Jennifer at the emails above.
###