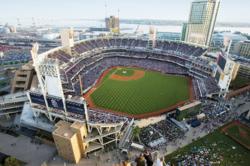 We are proud to be part of this historic celebration by hosting our loyal Chula Vista fans at PETCO Park during one of the most exciting times of the year: Opening Week
Chula Vista, Calif. (Vocus/PRWEB) February 28, 2011
Chula Vista Centennial Day with the Padres is designed to be a special day for Chula Vistans to enjoy America's pastime together at PETCO Park during the city's Centennial year of 2011. Discounted tickets are now on sale, at http://www.chulavista100.com for the day game on Sunday, April 10 at 1:05 p.m., when the Padres take on their division rival L.A. Dodgers.
"The San Diego Padres join all Chula Vistans in celebrating their centennial year," said Padres President and COO Tom Garfinkel. "We are proud to be part of this historic celebration by hosting our loyal Chula Vista fans at PETCO Park during one of the most exciting times of the year: Opening Week. I invite all of you to come out to the ballpark and help us get the 2011 season off to a great start."
On game day, Chula Vistans will be seated in adjoining sections to enjoy the fan experience together. Chula Vista residents receive discounted pricing when tickets are purchased at the official Chula Vista Centennial website http://www.chulavista100.com thru March 19. As an additional benefit to Chula Vista fans, no taxes, or service fees are assessed to tickets purchased thru the centennial website. The first 500 customers also receive a free centennial T-shirt sponsored by Sycuan. In addition, first 1,000 customers receive a game-day goodie bag sponsored by Coin Mart.
To kick off the excitement for the upcoming Padres season and to celebrate Chula Vista's Centennial, the Padres will host the Swing into the Centennial Rally with the Padres at Otay Ranch Town Center on Sat., March 19 from noon to 4 p.m. The rally is scheduled to include guest appearances from The Friar, Pad Squad and Padres Alumni, as well as games, fan-favorite activities, music and food. The Padres' flagship radio station, XX 1090 AM, will broadcast live from the rally.
The Padres rally event will also provide the first opportunity for fans to pick up tickets and last opportunity to buy tickets at centennial pricing, while supplies last. Tickets are expected to sell out at the discounted price, so fans are encouraged to purchase tickets online now at http://www.chulavista100.com.
Otay Ranch Town Center is located at: 2015 Birch Rd., Chula Vista, CA 91915
Tickets may also be purchased at the centennial office March 1 – 17 while supplies last, Monday through Thursday from 10 a.m. to 2 p.m. Tickets can be picked up at the Padres Rally on March 19, or at the centennial office beginning on March 21.The office is located inside City Hall at 276 Fourth Ave., Chula Vista, CA 91910.
Proceeds generated from ticket sales help benefit community events throughout the centennial year.
For additional information or to help support centennial-related events and projects thru sponsorship opportunities, contact Mary Marcdante, centennial manager, at (619) 585-5682 or mary(at)chulavista100(dot)com.
All activities are organized by the Centennial's Committee of 100 volunteers in partnership with community businesses, educational groups, and non-profit organizations and continue thru 2011.
About the Chula Vista Centennial
http://www.chulavista100.com
The City of Chula Vista Centennial is a yearlong, once-in-a-lifetime celebration of events, organized by and for the community to commemorate the history and people of the city and create a lasting legacy. City-wide events sponsored by community businesses, educational groups, and non-profit organizations in partnership with the Centennial's Committee of 100 volunteers will continue through 2011. To learn more about the Centennial and review a calendar of events and projects, visit the official website at http://www.chulavista100.com. Website designed by Chula Vistan Israel Farrer.
###