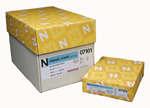 We knew our paper and envelope offering was compelling, as we carry all the major name brands. We weren't aware of how hard it is for our customers to buy these brands at great prices in the quantities they need. SupplyWays.com fills that need.
Portland, OR (Vocus/PRWEB) February 25, 2011
All businesses buy paper and envelopes for everyday use. From copier paper to paper for laser printers, from wholesale stationery to business envelopes, a wide variety of papers are utilized for business correspondence. More often than not, shoppers meet their paper and envelope requirements from two or more sources, settle for lesser products, or pay extremely high prices. Finding all of their business paper and envelopes in one place has been a struggle and costly. SupplyWays' huge selection makes the search for a wide variety of quality papers and envelopes much easier, as well as cost-effective.
For most businesses, shopping for copy paper, fine business stationery, and a variety of envelopes is accomplished through retail stores, online sources and "big box" office supply stores. Those who experience greater success buy in such large volumes that sales executives are knocking on their doors and providing huge discounts. By offering wholesale paper and envelopes online, SupplyWays.com is able to extend those same discounts to all customers, regardless of order size.
"When we opened SupplyWays.com over a year ago, we believed the vast majority of our customers would be those looking for our selection of packaging supplies, janitorial supplies, or food service supplies. What we didn't expect was the thousands of online shoppers searching for copy paper, business stationery and envelopes," said SupplyWays Vice-President of E-Commerce, Chris Marley. "What's more, is that these customers quickly informed our Product Team that a variety of name brand papers and matching envelopes was hard to find and expensive when they did. Our business model fit their requirements perfectly – SupplyWays.com has all of the major name brands at wholesale prices."
SupplyWays.com list of suppliers includes all of the main paper manufacturers, such as Neenah Paper, Mohawk Paper, Wausau Paper, Nekoosa Coated, Xerox and Domtar. They stock matching envelopes, too, as well as a variety of large sizes and window envelopes. Some of the name brands customers find popular are Neenah Classic Crest, Wausau Royal Fiber, Domtar Cougar, and Neenah Environment. SupplyWays.com carries more than 3000 different paper and envelope products.
Marley continued, "We knew our product offering was very compelling, as we have great relationships with all of the major paper manufacturers. But we were not aware of how tough it was for customers to actually purchase the papers and envelopes they wanted at reasonable prices and in the quantities they needed. And when our customers could find what they needed, the prices were high and the quantities necessary to make a purchase were much too large. Our business model is simple: to provide quality products, at competitive prices, in quantities our customers want."
For those searching out more obscure products, such as Kant Kopy Paper or MacTac labels, SupplyWays.com's vast inventory includes those items as well. They even carry Window-Cling material and printable Digital Polyester from Nekoosa Coated. Shoppers looking for an economical choice for copy paper can find a variety of products from Xerox, Domtar and the newly added Boise X-9 Splox.
Recognized for its competitive prices and huge variety of merchandise for all businesses and consumers, SupplyWays.com has become the destination of choice for online shoppers from Small and Medium-Sized Businesses to Enterprise Level Corporations. Educational Institutions, Non-Profits and Government agencies have also discovered SupplyWays for their easy to navigate website and "Better Than Wholesale" business model.
About SupplyWays.com:
SupplyWays.com, founded in 2009, has quickly become the leading online shopping destination for both small and large businesses alike. Their "Better Than Wholesale" business model gives all businesses and consumers the ability to purchase wholesale paper, wholesale envelopes, janitorial and cleaning supplies, packaging and shipping supplies, food service supplies, and wholesale gloves and more at prices usually reserved only for large businesses. SupplyWays.com offers over 12,000 products, and continues to add more each month. The site stocks products from leading manufacturers such as Neenah Paper, Xerox, Nekoosa Coated, Kleenex, Rubbermaid and more. All orders ship within 24 hours and discounted shipping is available on orders over $100.
# # #