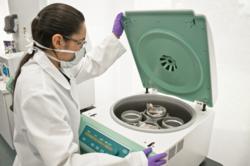 More than half of cord blood donations and privately banked cord blood in the United States are from Caucasians while minorities remain underrepresented
Miami, FL (Vocus/PRWEB) February 25, 2011
GeneCell International, an international leader in the processing and preservation of umbilical cord blood stem cells, announced today that it seeks to address the shortage of cord blood available for minority patients. The company, which privately collects and stores umbilical cord blood from clients for use by their immediate families, points to research that indicates cord blood banking among minority families is lacking.
"A person's blood stem cell type is inherited, which means a patient is more likely to find a matched donor from within their own ethnic group," said GeneCell's Operations Manager, Jose Cirino. "More than half of cord blood donations and privately banked cord blood in the United States are from Caucasians while minorities remain underrepresented. By increasing the awareness of cord blood advantages among minorities, there is a potential for increased access to therapies for more people."
The shortage affects patients of African, Asian, Hispanic and Native American Indian descent. Since patients who need a transplant are more likely to find a match within their own race, Cirino adds it is important that the pool of donors reflects the overall community.
Cord blood is rich in stem cells and there is less risk for the recipient's immune system to reject the cells, because certain immune cells found in the cord blood are not mature. Also, patients can get the treatment in about three weeks - as opposed to six to eight for bone marrow from an adult donor.
Alongside its commitment to educating the public on the benefits of cord blood preservation, GeneCell's presence in Florida, Connecticut, Massachusetts, Rhode Island, and Latin America makes it uniquely qualified to provide information for the Hispanic community. For many Hispanics who require umbilical cord blood stem cells for medical treatments, genetic matches are often difficult to find. GeneCell maintains a large presence in Latin America – the company operates a large facility in Venezuela - promoting the practice and encouraging families to bank their newborns' cord blood to help protect their loved ones.
About Umbilical Cord Blood Preservation
Umbilical cord blood preservation is a process by which blood is collected from the umbilical cord of a newborn baby and is stored cryogenically in a specially-designated bank. According to the National Marrow Donor Program, cord blood contains cells that can be transfused to a patient to treat various diseases, including lymphoma and leukemia. The list of illnesses that can be treated with cord blood continues to grow. In addition, the cord blood can be used to treat the child from whom the blood was collected, as well as some first-degree relatives who are a close genetic match, such as family members. Cord blood banking is regulated by the U.S. Food & Drug Administration and each year more and more parents choose to save their children's cord blood should the medical need arise.
About GeneCell International, LLC.
GeneCell International, LLC is a trusted provider of collection, processing and storage of umbilical cord blood from which stem cells can be extracted to treat a variety of diseases and disorders. Headquartered in Miami, Florida and with local offices in Central Florida, Connecticut, Massachusetts, Rhode Island, the Dominican Republic, Panama, Colombia and Venezuela, GeneCell operates state-of-the-art laboratories and storage facilities for the cord blood of thousands of clients. For more information and to learn more about cord blood banking visit http://www.GeneCell.com.
###