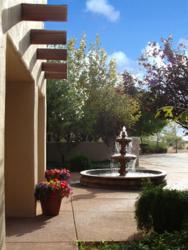 Our negotiation of contracts has contributed to many patients receiving help with the necessary treatment for eating disorders
Tucson, Arizona (Vocus/PRWEB) February 25, 2011
As part of Sierra Tucson's commitment to help individuals obtain the treatment they need, the world-class psychiatric hospital and residential treatment center has negotiated contracts with over a dozen insurance providers for the treatment of eating disorders.
The National Eating Disorders Association (NEDA) reports that Anorexia has the highest mortality rate of any mental illness. Recognizing the seriousness of eating disorders, Sierra Tucson's staff has made extra effort to help people who suffer from Anorexia, Buitorial@!plimia, or Binge Eating Disorder/Compulsive Overeating. Contracts have been established with Blue Cross Blue Shield, United Behavioral Health, and ValueOptions, among other insurance companies, to assist patients in accessing the clinically advanced, often life-saving treatment for eating disorders at Sierra Tucson.
A recent news story from CBS Chicago investigated "Eating Disorders and Insurance." The story conceded, "Eating disorders are an epidemic, with about 11 million people in this country suffering from one. So why are insurance companies increasingly delaying, denying or minimizing coverage for this potentially fatal disease?"
CBS 2 Investigator Dave Savini took a look at how Illinois cases are frequently handled and reported that experts "admit insurance companies are increasingly issuing denials or reducing coverage because of concerns about increasing mental health costs linked to health care reform."
Cyd Force, CPUR, Sierra Tucson Utilization Review Coordinator, works with insurance companies on a daily basis to advocate for Sierra Tucson's eating disorder patients. She states, "I provide initial information for pre-certification and negotiate every few days with concurrent updates on patients' clinical progress."
Although Sierra Tucson's staff acknowledges that it has become a greater challenge to get authorization and some instances occur where the patient is denied outright, the staff members' dedication is evidenced by successfully obtaining assistance for many patients. "We are frequently successful with partial approvals," says Cyd Force. "Approval is based on medical necessity and is usually given for one week at a time. Patients sometimes receive authorization for an entire 45-day stay, and approval has occurred for up to 65 days."
Specifically, during the Fourth Quarter 2010, Sierra Tucson performed insurance pre-certification and utilization review for 14 eating disorder patients, 1 of which is still in-house as of this week. Of the 14 insurance cases:

3 were denied (zero days authorized based on not meeting medical necessity)
6 cases were authorized in total
4 cases were partially authorized
1 case did not require pre-certification or review
"Our negotiation of contracts has contributed to many patients receiving help with the necessary treatment for eating disorders," continues Force. "Some insurance companies follow very stringent criteria, and even within the same company, different states have varying requirements." She gives credit to United Behavioral Health, ValueOptions, Federal Blue Cross Blue Shield, and Minnesota Blue Cross Blue Shield as examples of companies that consistently work in a collaborative fashion to coordinate care for their clients.
About Sierra Tucson
Sierra Tucson is a multi-licensed, accredited Psychiatric Hospital and Behavioral Health Residential Treatment Center that is internationally respected as a leader in the treatment of addictions, mental/behavioral disorders, and chronic pain. For over 27 years, Sierra Tucson has provided world-class treatment to thousands of people using some of the most progressive, effective therapies available. The renowned Eating Disorders Program at Sierra Tucson, developed over 20 years ago, provides integrated treatment for males and females suffering from Anorexia, Bulimia, and Binge Eating Disorder/Compulsive Overeating. For more information about Sierra Tucson's "Compassionate Care and Clinical Excellence," call 800-842-4487 or visit http://www.SierraTucson.com.
Sierra Tucson is a proud member of CRC Health Group, which offers the most comprehensive network of specialized behavioral healthcare services in the nation. With the largest array of personalized treatment options, individuals, families, and professionals can choose the most appropriate setting for their behavioral, addiction, weight management, and therapeutic education needs. CRC Health Group is deeply committed to making its services widely and easily available to those in need, while maintaining a passion for delivering the most advanced treatment available.
###