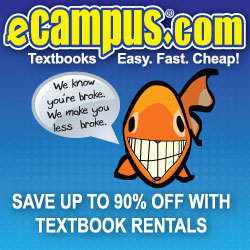 The company shipped out just under 200,000 textbooks in January alone, a 400% growth year over year for textbook rentals
Lexington, KY (Vocus/PRWEB) February 28, 2011
eCampus.com, a top online textbook retailer, reached a new company record in the first month of 2011 with its textbook rental program. Spring rush was a huge success for the company and exceeded all goals for the month. The company shipped out just under 200,000 textbooks in January alone, a 400% growth year over year for textbook rentals.
The company, based in Lexington, Ky, began offering the option to rent textbooks in August 2009. Since then, the rentals have proven to be more cost-efficient for students, saving them even more money than buying new or used textbooks. Students have the option of renting textbooks in three different time frames: semester, quarter (90 days), or short term (60 days), for varying prices.
January was a big month for the company all around. eCampus.com had record sales with eTextbooks as well, an industry that continues to grow year over year for the company. The textbook retailer also achieved record sales for the eCampus.com Entourage, a student brand ambassador program designed to reward students for spreading the news about eCampus.com's superior selection, prices and service. The program earned the company almost as much revenue in the month of January as it did for the entire year of 2010.
eCampus.com is the go-to website for cheap college textbooks. eCampus.com offers five different buying options for acquiring textbooks on their site. The site offers the purchase of new and used textbooks, textbook rentals, downloadable ebooks, and a marketplace function where customers can purchase used textbooks directly from other students. The site also offers a large inventory of DVDs and Blu-rays, as well as licensed college clothing and gifts.
ABOUT eCAMPUS.COM
eCampus.com was established on July 2, 1999. Since then, eCampus.com has grown into a major online retailer providing cheap textbooks for college and high school textbooks. eCampus.com's mission is to provide the easiest, fastest, cheapest way for college and university students to buy textbooks, rent textbooks and sell textbooks. eCampus.com believes the Internet buying experience should be fun and shopping for textbooks should be as fast and convenient as possible. The company makes a personal commitment to every customer that eCampus.com will be the best source for everything they need.
# # #