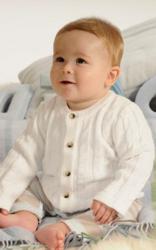 With just a little planning, new parents can make sound purchases to welcome their baby into the world without breaking the bank
Salford, Manchester (Vocus/PRWEB) February 27, 2011
It's estimated that first time parents can expect to spend around £4,000 on their baby within its first year, with new parents admitting to getting a bit carried away' by spending too much on products they rarely used and 52% of those purchases made in the first few months as a combination of anticipation, hormones and excitement is realised, according to The Telegraph.
Life with a new baby on the way can be stressful. In the UK, families will lose out over the next two years due to change in government plans. So far this year, the Health In Pregnancy Grant, which provided a one-off tax free sum of £190 was cut, and a further £250 which was The Child Trust Fund payment made obsolete too. The charity National Childbirth Trust (NCT) also reported on new restrictions implemented regarding the Sure Start Maternity Grant equals another loss of £500; all of which was once available to those expecting a child, according to Nottingham based Financial Advisor, Investment Sense.
Deneice Harwin, spokesperson for Philips Advent, supplier to baby online shops, said: 'Our research shows that three quarters of new parents worried about how they could cope financially before their baby had even arrived, so clearly money is a major concern. We know that new parents can often get caught up in a 'new baby shopping frenzy' as a third agreed that they spent more than they needed, buying things they didn't even use. By doing a little research into what they will really need, and buying good quality items which will last, new parents can save an average of £136 when baby arrives.
The Essential One advises new parents on a frequent basis. 'There are lots of ways to save money along the way if you do a little background research. What you need is someone you can trust to be really honest with you about what you really need- not what can be irrelevant. The Essential One supplies gifts for newborn and baby clothes on line, not just as array of things that are nice to haves and frivolous - they are passionate about providing a range of things that you really need.
They even tell you how many you'll need for the first few weeks when you new baby is born. Their mission is to make really basic essential products look great so that you can be really proud to put your baby on show knowing secretly that you've saved a fortune. One of their key tips is to buy a multipack of a key item. That will give you lots of choice with an outfit for every day but you know the value is there. They even give away a free bag with some of their products!
Family Finance expert at Philip Advent, Sue Hayward said: 'With just a little planning, new parents can make sound purchases to welcome their baby into the world without breaking the bank. The key is to look for quality items which will last for a long time or can be sold on to help recoup some of the cost. 'Another useful tip to consider, is that when it comes to purchasing clothing for baby, even if you know what gender your new baby will be, don't be tempted into buying a colour and style that is gender specific. Think lemon cream or white-so that when they inevitably plan for a second child you have a ready-made wardrobe regardless of the second baby's gender.' Says The Essential One.
In February 2011, The Guardian reported online that the average cost of raising a child from birth to 21 years old had increased to £201,809, with childcare becoming 'the most serious drain' on families with costs increasing 66.5% to £49,092.
The challenges facing parents, and particularly first times parents are difficult, but The Essential One remains positive. 'Don't be afraid to ask for advice- midwives, nurses, parents and family members all have experience which can be beneficial The biggest piece of advice I give to new parents is when you buy clothes for baby, stock up on the basics above anything else.
Good quality clothes last longer and it's the basic items like new born baby wear you'll find you rely on above anything else in those first few months; unisex baby wear is a good investment.' The recent reports and figures can be daunting, but if you are planning for a baby, buying for the birth gets easier, according to Philips Advent's Deneice Harwin. 'By the time a second child has come along though, parents are more cash-conscious and make informed purchases, based on what they learned first time around.'
For UK baby wear, baby clothes unisex, new born gifts and new born baby clothes, visit http://www.theessentialone.com.
###