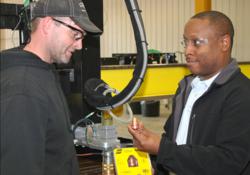 ESAB's After Market and Inside Sales Group takes a different approach to caring for your machine – they make house calls at no charge.
Florence, SC (Vocus/PRWEB) February 28, 2011
As part of a restructuring effort over the past 18 months, ESAB Cutting Systems announces the development of a new After Market and Inside Sales Group that will focus on helping ESAB customers obtain the maximum value from their investment by better managing the life cycle of their ESAB cutting machine.
To achieve this, ESAB has initiated a number of new programs. The After Market and Inside Sales Group will now proactively contact all plasma customers on a quarterly basis to ensure that their machine is functioning to their specifications. The Group will also oversee ESAB's new Plasma Partnership Program. In this program, customers who agree to purchase only ESAB plasma consumables are eligible for a host of services including the "Torch for Life" program, in which torch bodies are guaranteed for the life of the machine; a free annual Plasma Process Evaluation; a Plasma Performance Package with a four-year limited parts warranty; special deals on retrofits and upgrades of the torch, CNC, plasma power source, height control and other components or tools; discounts on parts and service; and discounts on training programs.
The company has expanded its staff with new Process Specialists who will travel to customer sites and perform the free annual Plasma Process Evaluation. In addition to helping identify machine or process issues early, during this evaluation, these specialists can provide process training. New Technical Sales Representatives have also been added to help customers address specific plasma process issues or develop special applications.
"The real value of purchasing genuine ESAB consumables is the entirety of this package of services that you receive," says Joe Diaz, ESAB North American After Market Business Manager. "This program takes advantage of ESAB's vertical integration because our specialists can help customers achieve the best performance from their entire system. As a world leader in the manufacture of CNC cutting machines, ESAB has the enviable and unique position of being able to protect your machine from the cradle to the grave. To do this, ESAB's After Market and Inside Sales Group takes a different approach to caring for your machine – they make house calls at no charge. So our customers can rest assured that they have access to the support they need to keep their machine running at peak performance for the life of their machine."
ESAB Welding & Cutting Products is one of the world's largest and most experienced manufacturers of welding and cutting equipment and welding filler metals. Recognized as the technological leader in the industry, ESAB is committed to providing cost effective solutions for its customers. For more information on cutting system solutions, visit http://www.esabna.com, http://www.esabcutting.com or call 1-800-ESAB-123.
# # #