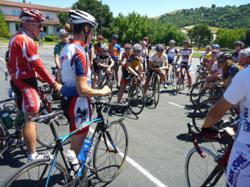 "Because each region of our country has unique characteristics regarding the management and growth of the sport of cycling, we partner with 34 Local Associations to direct bicycle racing across the country," explained USA Cycling CEO Steve Johnson."
Colorado Springs, CO (Vocus/PRWEB) February 27, 2011
USA Cycling announced today that based on last year's license sales, it will distribute over $422,860 back to its 34 Local Associations (LA) this month as part of an ongoing effort to grow competitive cycling at the grassroots level.
With the 2010 payout, USA Cycling has now delivered more than $2.5 million in direct funding to its Local Associations since the program's 2003 inception.
"Because each region of our country has unique characteristics and concerns regarding the management and growth of the sport of cycling, we partner with 34 Local Associations to manage bicycle racing across the country and ensure we are meeting the needs of our members on a local level," explained USA Cycling CEO Steve Johnson. "By putting our membership dollars back into these local racing programs, we can ensure that we are meeting the needs of our members on every level."
The purpose of the LA payout program is to better serve USA Cycling's members by re-investing membership dollars back at the local level. (Dollar amounts are based on the number of USA Cycling licenses sold in each LA's region.) These investments are allocated by the Local Associations toward specific programs in their regions, ensuring the money is used as efficiently as possible to grow cycling in all parts of the country.
For the Georgia Bicycle Racing Association (GBRA), the LA payouts are key.
"Georgia is still a new LA and we are just beginning to develop our programs," explains John Patterson. "For the first three years, we kept our programs low key to build up our funds. The only funding our LA receives is the license rebates from USA Cycling."
This year, the GBRA will kick off the first season of its LA sponsored race series, complete with prize money, newsletters, and a website - all funded through the payouts.
The New Jersey Bicycling Association (NJBA), which is enjoying a record number of licensed riders and race attendance for the fourth year running, has found the LA payouts to be quite valuable in allocating money to its various committees.
"For example, our cyclo-cross committee uses the money to purchase step down stakes and custom course tape that all of our cyclo-cross promoters have access to. This gives our races and series a more uniform look, and also helps defray the cost of infrastructure needed to run a cyclo-cross race," explains Tom Mains.
In addition to its cyclo-cross committee, the NJBA boasts a women's category 4 committee and a technology committee, both which receive annual budgets. The LA has also used its funds to offer travel assistance to juniors for national championship events.
"We may also use some of the funds to begin a new program aimed at making our local races a little more professional without putting an added burden on the promoters," Mains went on about initiatives for 2011. "We are investigating the purchase of an enclosed trailer which will house a mobile race kit that all of our promoters will have access to."
2010 is the third year in a row that all 34 Local Associations accrued license rebate funds from USA Cycling. (In order to receive a payout, the LA must have filed for and obtained non-profit status from the IRS and supplied the required year end reporting information to USA Cycling.)
Having the largest group of USA Cycling members, the Northern California/Nevada Cycling Association claimed the biggest payout for 2010, receiving a total of $42,080.00 from USA Cycling. The NCNCA was followed by the Southern California/Nevada Cycling Association which received $35,775. The New England Bicycle Racing Association earned $33,875 while the New York Bicycle Racing Association earned $28,060 and the Texas Bicycle Racing Association was fifth, earning $27,370.
About USA Cycling
Recognized by the United States Olympic Committee and the Union Cycliste Internationale, USA Cycling is the official governing body for all disciplines of competitive cycling in the United States, including road, track, mountain bike, BMX and cyclo-cross. As a membership-based organization, USA Cycling comprises 70,000 licensees; 2,400 clubs and teams; and 34 local associations. The national governing body sanctions 2,900 competitive and non-competitive events throughout the U.S. each year, manages 17 national championship events and is responsible for fostering the identification, development, and support of American cyclists. To learn more about USA Cycling, visit http://www.usacycling.org.
# # #