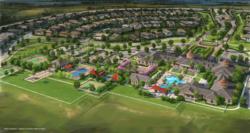 Our process for creating the best clubs in the industry is very thoughtful and is focused on our passion for the customer, and we strive to make each community more innovative and exciting than the last.
Groveland, FL, and Phoenix, AZ (Vocus/PRWEB) February 28, 2011
Shea Homes Active Lifestyle Communities, one of America's most respected brands and a premier developer of resort communities for the baby boomer generation, is announcing today that it is moving forward with resort-style Club and outdoor amenities at its new Trilogy community on U.S. Route 27 just north of Clermont, Florida. The 38,000 square foot Club at Trilogy near Orlando will be one of the largest on a square-foot-per-resident basis found at any active adult community in Florida. The award-winning developer of active adult communities invites the public to celebrate the groundbreaking with informal dusty shoe tours of the Club building, model and inventory homes and light refreshments on Saturday, March 12 from 11 a.m. to 3 p.m. at Trilogy on 229 Bayou Bend Road in Groveland.
Nationally ranked #1 in active adult homebuyer satisfaction three years in a row, Shea Homes Active Lifestyle Communities is known for its architecturally superior, resort-style clubhouses and amenities that revolve around boomers' specific needs for wellness, exploration, continued learning and close personal connections. With Trilogy in Groveland and Shea Homes at Victoria Gardens in DeLand, Shea Homes Active Adult Communities offers boomers two communities in Central Florida from which to choose. Trilogy's new amenities at it's Groveland community will include a state-of-the-art athletic club, private indoor/outdoor pool, a tavern, a multipurpose event room, and well-laid out open spaces for relaxing and mingling with friends. Residents, their family and friends will also be able to enjoy:
--Shea Green CertifiedTM homes that save up to 40% on energy usage
--Selection of larger home sites with sensational views
--Wide, winding, well-lit sidewalks that take you through the community
--A dedicated movement studio for Pilates, yoga, and other classes
--A women's-only gym accessible through the ladies' locker rooms
--Relaxing member-only areas to enjoy a game of pool, poker, chess, or a good book with new neighbors
--A demonstration kitchen for entertaining and cooking classes
--Rich outdoor offerings, including multiple championship tennis courts, bocce ball courts and dedicated pickle ball courts
--Professionally trained resort-trained staff to address members' every need
Trilogy opened in late 2010 and has already begun selling homes and is attracting significant interest from prospective buyers. At build-out, the active adult community will include 999 homes.
Currently, active adults seeking a resort-style retirement community can take advantage of competitive pricing with 16 homes to choose from ranging in price from $124,990 to $314,990 and in size from 1,256 to 2,930 square feet. Trilogy also offers attractive incentives on top of that. However, the price of homes at Trilogy is expected to increase during the construction process that is anticipated to be complete in 2012.
"At Trilogy by Shea Homes, we are recognized for building exceptional active adult communities with diverse venues and events with the purpose of combining the resort-style experiences with warm and inviting interactive areas. Our process for creating the best clubs in the industry is very thoughtful and is focused on our passion for the customer, and we strive to make each community more innovative and exciting than the last," said Jeff Gersh, area vice president for Shea Homes Active Lifestyle. "We are extremely excited about the amenities that we are bringing to Trilogy and the benefits that it will bring to the local community in raising the bar in the premium living experience for active adults."
For more information on groundbreaking tours for the public or real estate professionals, please call 800-685-6494.
About Shea Homes Active Lifestyle Communities
We've created a division within Shea Homes to develop resort communities geared to the Baby Boom generation. Baby Boomers helped change their world, and we knew they'd demand a new breed of community as they become empty nesters and retirees. Our Active Lifestyle Communities offer the legendary Shea Homes quality you'd expect, along with an outstanding lifestyle geared around exploration, freedom, wellness and connection. With 11 locations around the country in Florida, Arizona, Nevada, California and Washington, people looking to live in a master planned community that comes with 4-star resort amenities will have plenty of options to choose from. There are thousands of reasons people love living in Shea Homes Active Lifestyle and Trilogy communities, from the stunning Clubs and enriching amenities, to the Shea Green Certified™ homes, to the vibrant people who live in each one of our locations. We invite you to explore all there is to life in an Active Lifestyle Community and see why we're different inside and out. More information is available online at http://www.TrilogyLife.com or by calling (800) 685-6494.
# # #