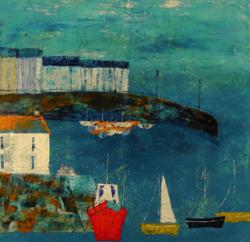 "Our aim is to present affordable art by living artists. We pride ourselves on bringing a fresh, thought-provoking, diverse, collection of Art to the public each year and 2011 will be no exception."
(Vocus/PRWEB) 25 February 2011
Art@Delamore has confirmed that this year over 100 painters and sculptors will have their work exhibited at the annual Art@Delamore exhibition.
Gavin Dollard, Director Delamore Arts, comments "Our aim is to present affordable art by living artists, so it was reassuring that last year we had over 7,600 visitors who purchased over 320 pieces of Art & Sculpture, as well as visited the gardens, which I guess must mean we are doing something right. We pride ourselves on bringing a fresh, thought-provoking, diverse, collection of Art to the public each year and 2011 will be no exception."
Amongst the artists, announced as exhibiting, are Richard Snowden and Sarah Ingleby-Mackenzie, Anthony Veale, Paul Vanstone and Pippa Unwin.
Based at Cornwood, near Ivybridge in South Devon, the Art@Delamore exhibition is hosted on the Delamore estate, home to Gavin's family since 1688. Two of the principal rooms of the house (built in 1859) are used as galleries for hanging paintings. Immense windows provide excellent natural light and make for a superb gallery where visitors have the opportunity to view paintings at leisure within the atmosphere of this impressive country house. Meanwhile the gardens, which are rarely open to the public, provide a striking backdrop for sculpture large and small, from Henry Moore Foundation prize-winners to emerging artists.
During the last eight years the exhibition has raised over £70,000 for South West charities, and this year is pleased to announce it will be supporting St Luke's Hospice, Plymouth. The Hospice is dedicated to providing highly specialized palliative for patients who have terminal or life-limiting illnesses, as well as offering support to relatives. As part of the fund-raising, local artist Michael Morgan has donated 'Moorland Farmhouse', a rare first artist's proof which has never been released as a limited edition. The print will be raffled during the course of the month long exhibition, with proceeds going to St. Luke's.
The exhibition will be open every day throughout May. The entrance fee for 2011 will remain at £5 per adult with under 16's free. Opening hours are 10.30am to 4.30pm every day (including Bank Holidays).
For further information please contact:
Simon Whittam @ Onshore Media
on: 01752 823414 or 078 0241 6420
Email: simonwhittam(at)weareonshore(dot)com
Or Dawn Bebe on 07831 790416
dawnbebe(at)weareonshore(dot)com
###