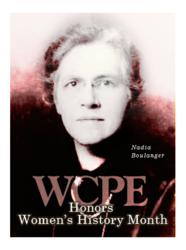 "Well, I have been a woman for 50 years now and have recovered from my initial astonishment."
Wake Forest, NC (Vocus/PRWEB) February 27, 2011
WCPE Assistant Music Director Kenneth Bradshaw announces a celebration of Women's History Month during March, 2011. The event honors female composers, conductors and performers in Classical Music. An interview with the first female musical director of a major American symphony, Marin Alsop of the Baltimore Symphony, airs during 'Preview!', Sunday March 13, 2011 at 7 p.m. ET.
During much of its history, the contributions of women in classical music have been unwelcome, whether as performer or composer. Diane Ambache, writing about women in classical music, tells this story: "In 1939 Nadia Boulanger was asked what it was like to be the first woman to conduct the Boston Symphony Orchestra in the world première of Stravinsky's Dumbarton Oaks. She replied "Well, I have been a woman for 50 years now and have recovered from my initial astonishment."
"Women have been under-represented throughout the history of classical music," says Bradshaw, 'WAVElengths' producer and host. "Their contributions have been considerable nonetheless – think Clara Schumann, Fanny Mendelssohn, Nadia and Lili Boulanger and Amy Beach, just to name five."
WAVElengths, featuring mid-20th and 21st century composers each Sunday evening at 9 p.m. ET, will focus on modern women composers during the month of March, which is Women's History Month. Hear works by Valerie Coleman, Joan Tower, Barbara Harbach, Jennifer Higdon, Jenni Brandon, Undine Smith Moore and Rachel Matthews, plus many others who are working as composers the world over. All bring their own life experiences to their music, which allows enjoyment of varying musical colors and textures.
In addition, there will be performances throughout the month. Some of the notable artists are; Martha Argerich, Alicia de Larrocha, Anne-Sophie Mutter, Iona Brown, Jacqueline du Pre, Katia and Marielle Labeque, Ofra Harnoy, Jeanne Lamon, Sylvia McNair, Sabine Meyer and Helene Grimaud.
Check the home page, TheClassicalStation.org, and WCPE's Facebook page throughout March for additional tidbits about great women in Great Classical Music.
About WCPE:
With a 30 plus year history, WCPE 89.7 FM is a non-commercial, 100 percent listener-supported, independent station dedicated to excellence in Great Classical Music broadcasting. Community-minded business underwriters and foundations are among the 150,000 listeners in the North Carolina broadcast area. General Manager Deborah S. Proctor's leadership has enabled the WCPE community to include national and worldwide listeners. Satellite transmissions serve North America. Other radio stations and cable television systems use these services to rebroadcast Great Classical Music, 24 Hours A Day. WCPE is one of the first public broadcasters to stream on the Internet. WCPE is heard worldwide on the Internet in multiple formats, including the next generation IPv6. Because WCPE receives no tax-derived support, the station conducts two on-air fundraising campaigns and two major mail-out campaigns per year to raise needed operating funds. For more information, visit http://www.TheClassicalStation.org or call 919-556-5178.
For Immediate Release
Media Contact:
Curtis Brothers
919.556.5178
curtis(at)TheClassicalStation(dot)org
###