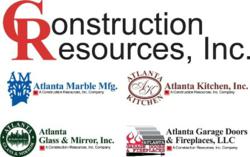 "We understand the importance of teaching young people the ability to be self-sufficient," said Mitch Hires, president of Construction Resources. "We are pleased that we could contribute to such a worthy cause."
Atlanta, Ga. (Vocus/PRWEB) February 27, 2011
Construction Resources, Inc., Atlanta's leading supplier of kitchen and bath supplies understands the importance of giving back to the community which is why they are pleased to partner with the Artisan Group to provide the United Methodist Children's Home Teaching Kitchen with new Artisan Stone Collection granite countertops, as well as sinks and faucets. The new countertops were donated by the Artisan Group and fabricated and installed by Atlanta Kitchen.
The United Methodist Children's Home Teaching Kitchen, located in Decatur, was created in the 1970's and is devoted to fostering, education and developing essential life skills to underprivileged children.
"We understand the importance of teaching young people the ability to be self-sufficient," said Mitch Hires, president of Construction Resources. "We are pleased that we could contribute to such a worthy cause."
Construction is now underway at the facility thanks to contributions from Construction Resources and other metro-Atlanta companies. Once the kitchen renovation is complete, volunteers and regular UMCH staff will coordinate and facilitate cooking sessions for children age 11 to 18 that are enrolled at UMCH.
"The kitchen renovation is an important project for the home because it will ultimately provide another outlet for volunteers and staff to teach young individuals how to become self-sustaining," said Kyle Boyd, a project manager with WicksteadWorks, one of Atlanta's leading remodeling companies that has donated its time to do the renovation work on the kitchen. "A new kitchen renovation will excite the children and help give them a positive mindset toward achieving essential life skills through cooking. We are very grateful for Construction Resources donations."
The UMCH Teaching Kitchen is still accepting monetary donations and is in need of two electric ranges and a refrigerator. To make a donation, contact David Brimanson at dbrimanson(at)wicksteadworks(dot)com. To learn more about the United Methodist Children's Home, please visit http://www.umchildrenshome.org.
About Construction Resources
Construction Resources, Inc. is a 40-year-old company that provides residential and commercial builders/remodelers, as well as homeowners with a one-stop shop for their kitchen and bath needs. The staff at Construction Resources, Inc. has the ability to provide products from several sister companies including Atlanta Marble Mfg., Atlanta Kitchen, Inc., Atlanta Glass & Mirror, Inc. and Atlanta Garage Doors & Fireplaces, LLC. By offering a diverse selection, Construction Resources, Inc. allows customers to simplify their ordering, scheduling and vendor process by dealing with just one salesperson and company rather than multiple salespersons and companies. Construction Resources, Inc. has four showroom locations throughout the surrounding Atlanta area including Alpharetta, Decatur and Lake Oconee. For more information on Construction Resources, Inc., call 404-419-1259 or visit http://www.constructionresourcesusa.com.
About Artisan Group
With 35 members and growing, Artisan Group covers most major markets in the U.S. and Canada, and it can handle a variety of fabrication needs from a local to national scale. Its members average more than 20 years of fabrication experience in the countertop industry, and all Artisan Group members have achieved, or have begun the process to achieve, full accreditation with the Marble Institute of America. The group is among the first granite fabricators in the world to be working towards this distinction. Collectively, Artisan Group surpassed $350 million in sales in 2009.
Brands of the Artisan Stone Collection include Exotic & Classic Granite, Modesto Granite (starting at $35/square foot) and Saratoga Soapstone. It also offers a marble collection as well as Heritage Wood surfacing products. Apart from countertops, the Artisan Group supplies the Firstline collection of granite care products as well as Kohler sinks and faucets through an exclusive specialty dealer program with the Kohler Company. For more information, visit http://www.artisan-counters.com.
###