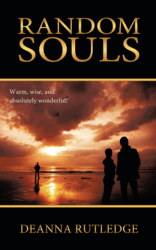 Set in Honolulu, Hawaii, Random Souls is the story of loss, turmoil and redemption through God's guidance.
Honolulu (Vocus/PRWEB) February 28, 2011
Many people believe that when God makes His presence known, it is in grand fashion: people miraculously walking away from a plane crash or being uncovered, barely alive after an earthquake. However, more often than not, God works in less dramatic, nearly imperceptible ways, but ways that are nevertheless life-changing. In Random Souls(published by WestBow Press), the new novel by author Deanna Rutledge, God guides a congregation through a crisis that threatens to rip their church apart.
Set in Honolulu, Hawaii, Random Souls is the story of loss, turmoil and redemption through God's guidance. It follows a group of latecomers at Aloha Community Church, who join a small group study on the Holy Spirit under the leadership of Jason Price, a new and inexperienced junior pastor. These random souls are searching for answers, but they encounter more than they anticipate: visions, dreams, nightmares, and circumstances so peculiar that two members quit outright and refuse to comment.
When Pastor Jason is mistakenly accused of having an improper relationship with a young woman in the church, rumors begin to run wild. It is not his fault the church has a history of sexual scandal, yet if a miracle doesn't happen, and soon, he will be drummed out of the pastorate in disgrace.
As Random Souls unfolds, readers identify with these small group members, all of whom have problems of their own, some of them just as urgent. Together with their struggling leader, they ask the age old question of those in crisis, "Where is God in all of this?" Before the story ends, however, they will find that God has not forsaken them at all. In fact, He is and always has been with them each step of the way, working incredible and amazing miracles in the midst of every difficulty.
About the Author
Deanna Rutledge is a pastor's wife, mother and teacher living in Honolulu. She has worked in the church for many years. An alumna of St. Mary-of-the-Woods College, Deanna is a former member of Youth With a Mission in Kailua-Kona, Hawaii. She currently teaches writing at Christian Academy in Honolulu, and is drama director at Kalihi Union Church.
WestBow Press is a strategic self-publishing alliance of Thomas Nelson, the world's premier Christian publisher, and Author Solutions, Inc. (ASI), the world leader in the fastest-growing segment of publishing. For more information, visit http://www.westbowpress.com.
###