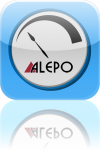 Mobile bandwidth needs are largely situational, requiring dynamic policy control in the hands of subscribers.
Austin, TX (Vocus/PRWEB) February 28, 2011
Alepo has unveiled the first mobile app to enable dynamic bandwidth selection by end users. Aimed at mobile operators as a value-added service, the app capitalizes on the growing demand for faster and more personalized bandwidth speeds on mobile devices while enhancing the customer experience.
The application empowers users to easily and instantly change their bandwidth speed as needed, boosting it for services like video streaming and online gaming, and lowering it for non-mission critical services like SMS and email. Giving subscribers greater control over their quality of service level in real-time amplifies customer transparency and satisfaction.
"Mobile bandwidth needs are largely situational, requiring dynamic policy control in the hands of subscribers," stated John Kim, Alepo Vice President of Business Development. "Alepo's Bandwidth Selection App assures subscribers of more personalized services by enabling them to tailor their policy to each situation."
Dynamic bandwidth speed selection adds another dimension of granularity to online charging, traditionally limited to time and volume. By charging more to high-speed users in real-time, service providers can dismantle the "one-speed-fits-all" approach found in service level agreements and contracts, resulting in smarter revenue and network resource allocation.
"We now understand that subscribers are willing to pay more in times when a high bandwidth speed is most critical," stated Kim. "By monetizing the solution, mobile service providers not only increase ARPU, but are able to better balance network resources while satisfying all subscribers."
Developed by the veteran BSS / OSS pure player, Alepo's Bandwidth Selection App directly communicates in with the operator's PCRF in real-time. It is available for both Android and iPhone.
About Alepo
Alepo is a leading provider of enabling infrastructure for telecommunications service providers. Alepo provides control plane & business management solutions for telecommunication companies, enabling them to compete efficiently and realize next generation services' opportunities.
# # #