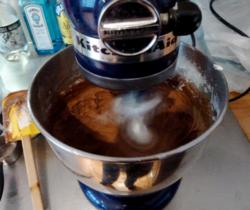 Chocolate cake is famously chock full of happiness-inducing compounds.
Brooklyn, New York (Vocus/PRWEB) February 27, 2011
A new Brooklyn-based website, The Broke and Chic Project, is all about creating, organizing and throwing fabulous dinner parties on a budget. Dining-in-diva, Sam Gillison, thinks deep and hard about dinner party menus - what to serve 6, 12 or 40 people; how to incorporate vegetarian and vegan options; wine and dessert ideas; and how to keep everything delicious, simple, fun and inexpensive.
Health experts may recommend natural light lamps and exercise to beat the winter blues, but foods rich in B, C and D vitamins are a more delicious way to ward off depression. During this year's seemingly endless winter, great food with good friends may be the most effective mood booster of all.
Gillison suggests planning an "anti-depressive" dinner party as a tonic for cold, dark days. "Even though cleaning the house and cooking may seem like the very last thing one wants to do when S.A.D. (seasonal affective disorder) hits, it's actually exactly what the doctor ordered," says Gillison. "Having people over clears the emotional cobwebs. A vacuumed house, a pot of fragrant stew simmering on the stove, and an open bottle of wine waiting to be sipped always overwhelms the winter blahs."
The following menu from Gillison's Broke and Chic Project battles the winter blues with naturally anti-depressive food. Easy to make, these delicious dishes are rich but not overwhelming.
Porchetta-style pork shoulder turns an inexpensive cut of meat into an exquisite entree. Broccoli Rabe is crammed with depression-fighting vitamins and minerals. As for dessert, Gillison says "chocolate cake is famously chock full of happiness-inducing compounds. And happiness is always chic!"
The Broke and Chic Project Anti-Depressive Dinner Party Menu
Porchetta-style Pork Shoulder
Sauteed Broccoli Rabe
Dilly Roasted Potatoes
Lucy's Chocolate Cake
For these recipes and other inspired, inexpensive entertaining ideas, visit The Broke and Chic Project.
###