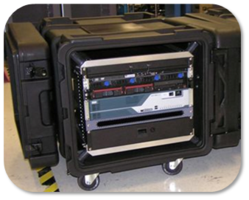 Advantech Wireless' new transportable system has been designed to minimize the cost of scaling a broadband access network from terminal populations as small as a few tens of terminals to tens of thousands states David Gelerman, Advantech Wireless CEO.
Montreal, Canada (Vocus/PRWEB) February 28, 2011
Advantech Wireless, a Canadian corporation announced today that it has released a new smaller, lighter, compact mobile transportable DVB-RCS hub. The new hub is really a turn-key satellite communications system which can be deployed in less than 1 hour, to enable a wide range of public and/or private network topologies with satellite interactive terminals.
The Transportable hub features:

Up to 135 Mbps outbound / Up to 6 Mbps inbound per carrier
DVB-S2 CCM/VCM/ACM outbound maximizes bandwidth efficiency
Optimized for IP and multi-media content
Open standard design (DVB-RCS)
Qualified with multiple IP/DVB broadcast platform vendors
Interoperable with 3rd party SatLabs certified terminal vendors
Unique and powerful multi-carrier demodulation technology
World-class scheduling efficiency, maximizing bandwidth utilization
User-friendly Network Management System (NMS)
Multi-Mode DVB-RCS and DVB-SCPC network architecture support
Mesh Overlay (peer-to-peer) optional capability
Always-on
"Advantech Wireless' entire system, as well as the DVB-RCS standard, has been designed to minimize the cost of scaling a broadband access network from terminal populations as small as a few tens of terminals to tens of thousands," states David Gelerman, Advantech Wireless CEO. "We were first to market and are the only company in the world manufacturing this amazing, compact and scalable product."
###