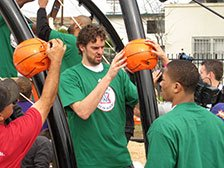 Los Angeles, California (Vocus/PRWEB) February 28, 2011
Landscape Structures Inc., a Delano, Minn.-based commercial playground equipment manufacturer, participated in a theme playground build in conjunction with the 2011 NBA All-Star Weekend in Los Angeles, Calif. KaBOOM!, NBA Cares, and players from the league came together to install an Evos™ basketball themed playground by Landscape Structures on Feb. 18.
KaBOOM! is a national nonprofit organization that envisions a great place to play within walking distance of every child in America. With NBA Cares, the league's global community outreach initiative that addresses important social issues, KaBOOM! hosted nearly 100 volunteers for the community-build installation of the theme playground at Frederick Douglass Academy Charter School in L.A. Together, KaBOOM! and NBA Cares installed a playground to celebrate KaBOOM!'s mission in conjunction with the NBA All-Star Weekend. In addition to community volunteers, Pau Gasol, Los Angeles Lakers; Dwight Howard, Orlando Magic; DeMarcus Cousins, Sacramento Kings; LeBron James and James Jones of the Miami Heat; Marion Jones, Tulsa Shock; and Tim Duncan, San Antonio Spurs, were on-site to help with the installation.
This is the third consecutive year that KaBOOM! and the NBA have partnered together during NBA All Star Week to build Landscape Structures' themed playgrounds. In February 2010, volunteers helped construct an Evos-themed playground at the Summit International Preparatory in Arlington, Texas. In March 2009, the first ever community-build installation of custom Weevos™ and Evos-themed playgrounds was installed at Holiday Park in Phoenix, Ariz. Learn more about Landscape Structures' work with KaBOOM! and watch a video from the first build in Phoenix.
# # #