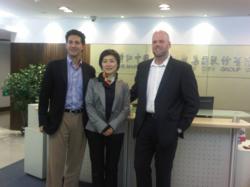 Los Angeles, CA (Vocus/PRWEB) February 26, 2011
China Mart® Group and Zhejiang China Commodities City Group Co.,Ltd. (CCC) have entered into a cooperation which bring the on-line services and exhibition trade shows in YiWu and the USA much closer together.
ChinaMart's agreement with CCC is ground breaking in that it is the first time in US history that a US corporation has been able to cooperate with a resource that can change the landscape of general commodities. "CCC is a key international merchandise mecca where over 200,000 buyers visit daily. America must also have access to the over 60,000 Chinese suppliers in CCC. The partnership between The China Mart Group and CCC will do just that," states Manufacturer.com CEO Jason Prescott begin_of_the_skype_highlighting     end_of_the_skype_highlighting. By exchanging online resources and promotional exchanges at trade shows in the USA and China, over 60,000 new suppliers will be made available in key global exchanges.
Part of this cooperation includes the following issues: exhibition resources sharing and marketing exchanges. China Mart® Group will offer the assistance for CCC to join in the industry leading US shows such as: ASD Show and National Hardware Show while CCC will make an over-all planning for China Mart® Group to take part in 17th China Yiwu International Commodities Fair. The two companies will also share mutual on-line resources through Onccc.com, Manufacturer.com, TopTenWholesale.com and ChinaMartUSA.com. New web resources will bring together over 5,000,000 international traders and provide new manufacturing and import sources to wholesalers and retailers in North America.
"President Hu's visit was designed to create new business and cultural bridges between the two world super powers. Politics needs to follow trade. Trade should not follow politics, because trade is the underlying engine for our economies. The politics have set the stage for us, and now we should further develop trade through unique business platforms like the China Mart," said Stephen Perl President of China Mart Group ™ .
Los Angeles China MartGroup (USA) is the largest and most comprehensive U.S.-China trade platform in the U.S. It offers online and offline marketing services to assist Chinese manufacturers in opening the U.S. market and establishing U.S. branches. Its subsidiaries include China Mart® Los Angeles (the largest offline Chinese sales platform which includes showrooms, sales force, and immigration services), Manufacturer.com ™ and TopTenWholesale.com ™ (the leading B2B Wholesale, Manufacturer Product Sourcing Websites owner in the USA), and 1st PMF Bancorp (the largest privately owned trade finance and invoice factoring platform based in the U.S. with dedicated programs to financing Chinese manufacturers).
"Los Angeles is not only the manufacturing capital of America and would thereby make a terrific entry point for CCC - Jinhua, China. But it has the largest Chinese population in the U.S. 56% of all imports of the U.S. come from the ports at Los Angeles. California's economy is the largest of any state in the U.S., and is the eighth largest economy in the world. It makes perfect sense for Chinese companies set up their US branches in Los Angeles. BYD, Air China and many other Chinese big corporations have all successfully established their headquarters here in Los Angeles," said Stephen Perl, President China Mart ™ Group.
About China Mart® Group
China Mart® is the largest offline sales, service, and immigration platform in North America currently operating, dedicated to opening the North American market to Chinese manufacturers (http://www.ChinaMartUSA.com).
JP Communications, Inc. publishes the leading B2B Wholesale, Manufacturer Product Sourcing WebSites in the USA (Manufacturer.com, TopTenWholesale.com) and "Manufacturer.com The Magazine," a trade magazine distributed in North America that only targets wholesaler readers (distribution is intended be more than 20,000 large wholesalers per month). The online network includes Manufacturer.com®, Top Ten Wholesale®, WholesaleU® and OffPrice Network®. JPC also has various media channels on their sites: Video, Blogs, News, Forums and Newsletters.
Manufacturer.com® (http://www.Manufacturer.com) helps buyers quickly source products, finding the right suppliers for profitable business transactions. Suppliers can use Manufacturer.com to easily list their companies and will be found by millions of buyers. Importers, exporters, wholesalers, retailers, independents, flea marketers, convenience stores, charities, discounters, auctioneers, drop-shippers and entrepreneurs all use Manufacturer.com to find and establish valuable trade partners.
TopTenWholesale® (http://www.TopTenWholesale.com) is the leading online wholesale directory and search engine for connecting resellers and buyers of general merchandise in the global and domestic trade directly with wholesalers, manufacturers, distributors, drop-shippers, importers, exporters, and other types of suppliers. Use TopTenWholesale.com to search from over 100 wholesale product categories, and over 3,000 wholesalers and manufacturers. Find the hottest wholesale products online, including: wholesale jewelry, general merchandise, closeouts, handbags, apparel, gifts, electronics, novelties, toys, and much more. Connect with domestic and global wholesale companies and products today!
1st PMF Bancorp is the largest privately owned trade finance platform based in the U.S. with dedicated programs for invoice factoring and trade financing for U.S. and Chinese companies. Since 1985, 1st PMF Bancorp has provided invoice factoring to fast growing manufacturers and wholesalers globally. PMF has specialties in trade finance of general merchandise products between the U.S. and China. PMF has many financial products to support growth domestically and internationally companies such as company credit reports globally, credit insurance, escrow trade accounts, payment systems, and other services.
China Commodity City, is located in Yiwu City of Zhejiang Province. Now it covers a business area of more than 4,000,000 square meters and owns 62,000 booths, with more than 200,000 businessmen and a daily customer flow volume up to over 210,000. The commodities involved include 16 major industries, 4,202 Categories, 33,217 Subcategories and 1,700,000 products. Yiwu China Commodity City was honored as "The Largest Wholesale Market in the World" by the United Nations, the World Bank and the Morgan Stanley, others.
# # #