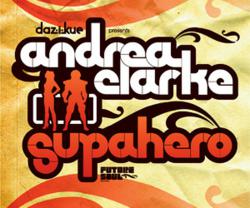 Lovely beautiful music..thanks for sharing!
its in the box and going on the show... Osunlade
San Francisco, CA (Vocus/PRWEB) February 26, 2011
British singer Andrea Clarke is no newcomer to soulful music; since year 2000, her powerful vocals have been featured on releases for some of the best underground soul labels around. She has worked with an array of respected producers and other vocalists from across the globe and now presents, 'Supahero', a collection of self-written songs, produced by Daz-I-Kue.
Now a resident of Atlanta GA, Daz-I-Kue has become a legend within the broken beat scene following his years of involvement within the underground music scene in London as a DJ, sound engineer and promoter. Daz is a member of the nine-people collective from London, Bugz in The Attic and has already made his mark for Future Soul Records having co-produced the critically acclaimed Joy Jones album, 'GodChild', which was released in June 2009.
'Clap Your Hands', adopts an electronic party vibe. The track is full of positivity and focuses on the 'light which shines within us all' – in which we're all beautiful people.
The bumping sounds of title track, 'Supahero', and a fresh 'n' funky beat complements the message: each and every one of us is a super hero.
On the hip-hop vibe with some arresting spoken word, 'You Got' is about seeing what you like - and getting exactly what you want.
'What Do You' is a track which really showcases Andrea's vocals and Daz's tight production skills and asks the question we ask time and time again in our lives.
'How Can I' incorporates underground street vibes with meaningful vocals for a head-nodder with a difference.
When asked what people can expect from this album, Andrea Clarke thinks people should expect a 'fusion of sounds: funk, soul, salsa, and broken beats.'
Daz-I-Kue explains why an album with Andrea Clarke was ALWAYS going to happen:
"Andrea and I first met at West London's top night, Rotation, back in the day. I didn't know she was such an awesome singer but I loved her energy. When I discovered her singing abilities, I had to find a project that would suit her to the ground. It's taken till now to sort it out an album but I got the beats done and we joined forces to get the vocals out in just a couple of magical weeks. Andrea's a true professional and has a beautiful positive energy about her."
One thing you'll notice about 'Supahero' is how perfectly the pairing of meaningful lyrics and modern, futuristic music works to create a release which showcases true vocal talent, fresh music and most definitely SOUL.
Andrea Clarke & Daz-I-Kue 'Supahero' Tracklist:
01. Intro
02. Clap Your Hands
03. Something
04. Supahero
05. You Got
06. Interlude
07. What Do You
08. How Can I?
09. Supa Hero Rap
10. Waves Of Peace
11. Ahmir Interlude
12. Supa Hero (Ezel Remix)
Amazon
http://amzn.com/B004DF7QTQ
iTunes
http://itunes.apple.com/us/album/supahero/id405979183
Preview the album on Podomatic:
http://futuresoulrecords.podomatic.com/entry/2011-02-06T21_15_48-08_00
RELEASE DATE: February 28, 2011
For more information about this release or Future Soul Records please email:
angela(at)futuresoulrecords(dot)com or visit http://www.futuresoulrecords.com
Notes for editors:

Future Soul Records logo, artist images, or release artwork available on request.
Future Soul Records (FSR) is about offering listeners only the best in soul, hip-hop, nu-jazz and broken beat - period. The FSR mission is to offer listeners only the very the best in underground soul music, whilst bringing this music to the forefront. The label is dedicated to establishing new opportunities for artists to market, promote and sell their music via a whole host of avenues.
# # #