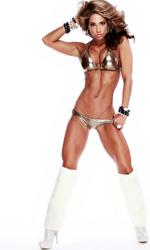 Jennifer Nicole Lee's Fitness Model Factory and Fitness Model Bootcamp are a full fledge production company to help up and coming talent and fitness models make a name for themselves in the industry."
Miami, FL (Vocus/PRWEB) February 26, 2011
Fresh off the heels of her super successful JNL FUSION weekend retreat and the Discovery's Pitchmen show of Chest Magic, her team released the news of her two new business divisions along with her new offices.
The [Fitness Model Factory is JNL's brainstorm idea of creating a full fledge production studio, from photography to filming that she owns and operates with her team. Many of her networking associates and her worldwide fan base have urged her to create this new location, allowing her to hone in on her creative powerhouse influence in the wellness industry. From still photography, podcasts, radio talk shows, videography and filming, her new Fitness Model Factory will cover all aspects of fitness multi-media productions. And if you are a photographer, and you need a studio to shoot out of, JNL and her team are also offering the service of purchasing a day pass to her photography studio space.
Her Fitness Model Bootcamp will help anyone with a desire and passion to make a big name for themselves in the industry. JNL will be hosting workshops, seminars, and "bootcamps" to educate and guide those just breaking into the industry. Jennifer will coach on various topics that are of utmost importance in the fitness industry to build your name and to create a brand. From the vital necessary steps from creating a successfully search engine optimized website, to social networking, to creating digital products for global sales, to even topics such as how to pose in front of the camera, Jennifer will be covering.
When asked how it feels to be growing from talent to producer, with the grand opening of The Fitness Model Factory and Fitness Model Bootcamp, JNL stated "Im blessed to now be able to express myself artistically through my production studios and other fellow talent. Daily I receive hundreds of emails from around the world asking me to help produce photo shoots, from glamour, fashion and of course fitness.
The first groundbreaking production that is scheduled to be held at the Fitness Model Factory is JNL's 2011-2012 Fitness Model calendar. Mike Brochu will hold position as Chief photographer, along with Carolina & Alex Gonzalez of Axis Design. JNL states "Working with the best is a huge key to success in ones career, and my business networking contacts are the best in our industry, and now Im excited to be opening these expansive list of services to the public. I am now celebrating my 40th magazine cover, launching my fourth global fitness direct market fitness product, and third hard cover book. It's time that I step out from in front of the camera, to behind it-directing and producing. It's only a natural extension of my journey."
In closing, this announcement from JNL's team has created a buzz in the fitness industry, and Team JNL are now accepting applications from other photographers, videographers and also future fitness model talent who want JNL to make them the next future fitness celebrity.
For more information please visit http://www.FitnessModelFactory.com and http://www.FitnessModelBootcamp.com
# # #