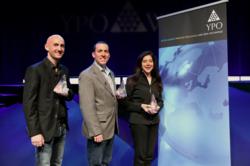 These YPO members' environmental, community-related and philanthropic actions have made a major difference not only for their communities, but also on a global basis.
Dallas, TX (Vocus/PRWEB) February 28, 2011
The Social Enterprise Networks (SEN) of YPO (Young Presidents' Organization) today announced the winners of the 2011 Corporate Social Responsibility (CSR) Awards. Selected for making significant contributions that have a measurable impact on the environment, their communities or among their employees, YPO's annual CSR award recipients have demonstrated the highest level of leadership.
"We are thrilled to announce YPO's 2011 CSR award recipients, and we applaud them for their charitable endeavors and honorable efforts," said Rob Follows, chair of YPO's SEN. "These YPO members' environmental, community-related and philanthropic actions have made a major difference not only for their communities, but also on a global basis."
The 2011 CSR Award winners are:
Paul J. Lightfoot (YPO Fairchester Chapter), Owner of BrightFarms LLC
Winner of CSR Award for Environmental Sustainable Business Practices
BrightFarms (BFS), formerly Better Food Solutions, designs, finances, builds and operates hydroponic greenhouse farms ("BrightFarms") on site at grocery retailers, eliminating time, distance and costs from their produce supply chain. As the owner and CEO, Paul J. Lightfoot has disrupted traditional agricultural supply chain methodologies to create a more sustainable business practice. Growing food ultra-locally, BFS has significantly limited the environmental impacts associated with agriculture. The elimination of shipping and field agriculture means drastically reduced fuel consumption, carbon emissions and water use. BFS enables grocery retailers to change their produce supply chain in a way that improves the planet and their profits.
Scott Farquhar (YPO Sydney Chapter), Owner of Atlassian
Winner of CSR Award for Economic Justice/Community Impact
Manufacturer of popular products such as JIRA and Confluence, Atlassian started with just two people, a product idea and a mission to commit 1 percent of revenue, 1 percent product, 1 percent of equity and 1 percent of employee time to charity. Facing technology giants with strongly established global presences, the two founders created a new model for their industry, selling B2B software that could be purchased and downloaded from their website at a fraction of the price of their competitors. They have matched their business success with major charitable contributions, including enabling thousands of children in the developing world to receive an education they wouldn't otherwise have received.
Richard M. Bergfors (YPO Sweden Chapter), Owner of Max Hamburger Restaurant
Winner of CSR Award for Leadership
Richard M. Bergfors heads the Max Hamburger Restaurant, the ninth most popular business in Sweden. In 2006, Bergfors came to the realization that the beef industry was making a negative impact on the environment. As owner of a business that sold more than 80 percent beef products, he chose to be transparent to his customers, labeling all products with information about the company's carbon footprint. Demonstrating his commitment to make a difference, he launched new products with a much lower environmental impact, and offset his beef products' emissions by investing in forestation projects in Africa.
Nancy A. Aossey (YPO Bel Air, YPO Intercontinental, and WPO Los Angeles Chapters), President and CEO of International Medical Corps
Winner of CSR Award for Outstanding Philanthropy
Nancy A. Aossey joined International Medical Corps as start-up CEO shortly after its founding in 1984. She went on to establish the humanitarian organization as a leader in medical crisis response and recovery. Under her leadership, International Medical Corps has delivered more than $1.1 billion of assistance, health services, and training to tens of millions of people in more than 50 countries. International Medical Corps' proven approach of relief that focuses on training has helped build self-reliance and save millions of lives in some of the world's toughest environments, including areas hardest hit by the Indian Ocean tsunami, Darfur, Afghanistan, Rwanda, the Democratic Republic of Congo, Haiti, and Pakistan.
About SEN
Comprised of more than 200 members, YPO's Social Enterprise Networks (SEN) mobilize the unique resources, relationships, skills and experience of YPO members and their families to make positive changes in seemingly unsolvable situations such as poverty, education, the environment and peace throughout the world.
About YPO
YPO (Young Presidents' Organization) is a not-for-profit, global network of young chief executives connected around the shared mission of becoming Better Leaders Through Education and Idea ExchangeTM. Founded in 1950, YPO today provides 18,000 peers and their families in more than 100 countries with access to unique experiences, world-class resources, alliances with top learning institutions, and specialized Networks that help them enhance their business, community and personal leadership. Altogether, YPO member-run companies employ more than 15 million people around the world and generate US$5.4 trillion in annual revenues. For more information, visit 4H http://www.ypo.org. Also see us on http://www.facebook.com/pages/YPO-Young-Presidents-Organization-Official-Public-Page/263560908348?ref=search&sid=616117795.3237268856..1 [Facebook] and follow us on Twitter.
# # #
Contact: Michèle Foster or Angela Mers, 7Hpress@ypo.org