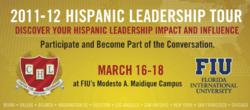 We have reached a critical juncture in America's Corporations, where Hispanics must have their own identity as leaders that translate to a more authentic relationship with the workplace...
Irvine, CA (Vocus/PRWEB) February 28, 2011
Influential thought-leaders representing America's leading brands will take center stage to discuss new areas for corporate growth, when the Center for Hispanic Leadership 10 City Hispanic Leadership Tour kicks-off at The Ocean Bank Auditorium on the campus of Florida International University (FIU) on March 16th. The tour mission is to educate corporations on how to gain a global competitive advantage by allowing their Hispanic Talent to activate their natural characteristics that make them great leaders to propel workplace innovation and spearhead marketplace growth & expansion.
Confirmed speakers that will be featured during the Thought Leadership Symposium on March 16th include: Francisco Bethencourt, Director Hispanic Market Strategy at Pepsi Beverages Company; Luis Vargas, Director of Neighborhood Marketing – Hispanic at Winn-Dixie Stores Inc.; Miguel Ferrer, Director at AOL Latino; Miriam Muléy, CEO at The 85% Niche, LLC; Luis F. Casas, Director of Marketing, Communications & Recruiting of the College of Business Administration at Florida International University; Rosanna Fiske, Chair / CEO, Public Relations Society of America; Jose Nido, Vice President, Global Supplier Diversity at Wyndham Worldwide Corporation; Rima K. Matsumoto, Vice President, Research & Strategic Alliances at Leadership Education for Asian Pacifics, Inc.; Shawntee Reed, Manager of Diversity at Sears Holdings Corporation; and Glenn Llopis, Founder/CEO of the Center for Hispanic Leadership. To learn more each speaker, please visit http://www.hispanicleadershiptour.com/speakers.
These top flight speakers will address key issues surrounding Hispanic leadership and why it is a business and societal imperative that America's corporations must begin to take seriously as a growth opportunity for their organization and brands. Mr. Llopis' keynote will address why Hispanic leadership matters in today's brave new workplace. He will reveal the 6 natural characteristics that define Hispanic leadership – and that represent the leadership competencies to be successful, significant and propel growth in the post-2008 economy. The executive roundtable will be lead by participants: Francisco Bethencourt, Luis Vargas, Miguel Ferrer, Miriam Muléy and Luis Casas who will address the importance of Hispanic market and Hispanic talent development convergence and the critical success factors that allow America's brands to be most effective when earning the right to have a relationship with the Hispanic consumer whose purchasing power is estimated to reach $1.3 trillion by 2014. Finally, the plenary session will be lead by participants: Rosanna Fiske, Jose Nido Rima K. Matsumoto and Shawntee Reed who will address the changing role of diversity and how it must touch the business everyday to serve a competitive advantage to propel organizational growth and workplace innovation. Diversity can no longer only represent tactical initiatives for an organization. Diversity must be the engine that fuels department and company-wide strategic innovation initiatives.
"These topics will address today's most pressing Hispanic leadership and emerging market development business imperatives," says Llopis. "We have reached a critical juncture in America's Corporations, where Hispanics must have their own identity as leaders that translate to a more authentic relationship with the workplace to propel new types of innovation and with Hispanic consumers to drive incremental growth," concludes Llopis.
Learn more and register today at http://www.HispanicLeadershipTour.com and become a part of this time sensitive Hispanic Leadership conversation that will take place at the Oceans Bank Auditorium from 2pm – 6pm on March 16th at FIU's College of Business located at 11200 SW 8th Street, Miami, Fl. 33199.
About The Center for Hispanic Leadership
The Center for Hispanic Leadership is a Southern California-based organization that provides talent development, workplace innovation and marketplace expansion programs to Fortune 500 corporations to support the advancement of Hispanic professionals. The Center was founded by Mr. Glenn Llopis, a former corporate executive; author of Earning Serendipity: 4 Skills for Creating and Sustaining Good Fortune in Your Work and The Six Reasons Why Hispanic Leadership Will Save America's Corporations; and contributing leadership writer to Forbes and AOL Latino. To learn more about the Center for Hispanic Leadership, please visit http://www.CenterforHispanicLeadership.com. To learn more about the 2011 Hispanic Leadership Tour, please visit http://www.HispanicLeadershipTour.com
About Florida International University
With a student body that reflects the diverse, multicultural character of South Florida, Florida International University has been a leader in graduating minority students at all levels and in all fields of study. It awards more bachelor's and graduate degrees to Hispanic-American students than any other North American university. FIU graduates—of whom there are more than 113,000 and of whom more than three-fourths continue to live and work in South Florida—are eagerly sought out by corporate employers because of their dedicated work ethic and their ability to function successfully in a multilingual and multicultural work environment.
FIU's College of Business Administration, South Florida's leading business school with unique expertise in international business, entrepreneurship and a broad range of financial services, is the largest of the university's professional schools. Among the college's nearly 35,000 alumni are some of South Florida's most successful business leaders and entrepreneurs. More than 6,000 students are enrolled in undergraduate business courses in its Landon Undergraduate School of Business and more than 1,500 graduate students study in its Chapman Graduate School of Business every year. Another 1,000 business professionals participate annually in one or more of its professional and executive education programs.