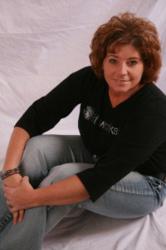 I am excited to share today on the show how to take the necessary steps to persevere through a celiac diagnosis and Live a Gluten Free Life
Nashville TN (Vocus/PRWEB) February 27, 2011
Known as Celiac Warrior to the social networks, Nancy Olson celebrates her life every day. Tatyana Gann, founder of SmokinHotPR VIP publicity services in Nashville, TN, has invited Mrs. Olson to be a part of her "Life with Tatyana" radio show. The exclusive interview with Nancy Olson is a special event for many radio listeners in Nashville and nationwide, premiering Sunday, February 27, 2011 on WVOL1470.com at 6 pm CST.
Nancy Olson said, "I am excited to share today on the show how to take the necessary steps to persevere through a celiac diagnosis and Live a Gluten Free Life"
Nancy Olson will reveal her mini guide "Living with Celiac and Transforming Your Life with Gluten Free Living." Olson believes everyone with a medical challenge has a choice in which advice they listen to and what resources they will use to try and improve their health.
According to a recent research several million of people live with this disease, but only small percentage of them are diagnosed and properly treated. Nancy Olson is not an average woman who has survived celiac disease. She became a true warrior and today her mission is to inspire people in her community and online by providing the best resources and advice.
Nancy Olson asks, "Is that really necessary? You can just take the simple secrets that I am going to teach you and become pain free." You will learn how to manage Celiac disease through clean gluten free diet and healthy eating habits.
On "Life with Tatyana" radio show interview Nancy Olson will share her struggles and challenges, and she hopes to be an inspiration to many listeners.
Nancy Olson will cover the following during her 30 minute interview:

Her diagnosis of Celiac Disease and awakening life moments
Tips on pain management
Healthy Eating and Gluten Free Living Advice
Her Focus today and Her Support of the Celiac Community
Favorite Celiac Resources
"The Life with Tatyana Show" is about life, inspiration, fashion, real business issues and life situations that people face and with a touch of humor and with pure honesty Tatyana makes sure to deliver what listeners are craving to know in the real daily life.
To learn more about Nancy Olson's secret healthy eating solution and gain access to these phenomenal product recommendations visit http://www.makingresults.com Read about Olson's celiac journey and get complete access to her FREE report Beginners Guide to Living a Gluten Free Healthy Lifestyle go here: http://www.thrivingwithceliac.com
For Media: Nancy Olson is available for speaking, events, and expert quotes.
About Nancy Olson: Nancy is a celiac warrior that lives in Minnesota that writes to inspire others with celiac disease or health issues that don't have to take over your life. Nancy has had many health challenges in the past; she has been eating a gluten free lifestyle for over 5 years now because of her celiac diagnosis. Nancy is the leader of two celiac support groups in central Minnesota.
Nancy Olson can be reached at 320-766-5368 for further questions regarding celiac disease and her weight loss solutions or email thrivingwithceliac(at)gmail(dot)com
Publicist Tatyana Gann, 615.354.7625
# # #