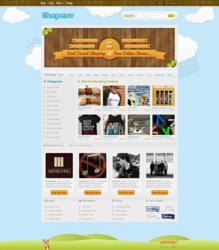 In the growing space of ecommerce, our service is very competitive and unique because unlike our competitors, we're empowering individuals to build profitable businesses on our platform and allowing them to keep the money
Nashville Tn (Vocus/PRWEB) February 28, 2011
ShopENV brings an innovative twist to the market with their unrivaled Etsy like ecommerce solution. This unique concept allows business owners to set up a theme based marketplace, rent it, attract sellers to it that can set their own competitive rates. ShopENV coins the term Mavens in describing their renters. Currently, several of the Mavens are arts and crafts retailers.
According to ShopENV's co-founder and CEO, Kevin Thompson, "In the growing space of ecommerce, our service is very competitive and unique because unlike our competitors, we're empowering individuals to build profitable businesses on our platform and allowing them to keep the money." This leading-solution brings tools to the marketplace that easily and quickly helps their Mavens setup a robust ecommerce site.
ShopENV offers a simple solution for sellers that do not want to worry about setting up a complicated ecommerce site. Essentially, ShopENV helps people create destination marketplaces around their passion.
ShopENV offers the following tools to Mavens.

Allows Mavens to set their own transaction fees for Sellers and keep the revenue.
PayPal X integration, which means the ShopENV shopping cart, is powered by the most sophisticated payment processing system in the world. With Paypal X, buyers will only need to checkout once even if they purchase items from several sellers.
It provides communication modules for Mavens to stay in touch with their Sellers.
Facebook fanpage integration where the sellers can list their products right on Facebook, "Like" their favorite items, login to ShopENV using their Facebook ID.
Provides a simple and intuitive user interface experience.
Provides premium themes and skins for the marketplace.
ShopENV makes it simple and affordable for business owners to run their businesses and sell their items. Basic accounts are free and the premium accounts are incredibly affordable.
In addition to their intuitive system, ShopENV provides a level of service that is unparalleled in the eCommerce space.
As Thompson states "We want our commitment to service to be one of the distinguishing factors that separates us from other offerings in the market. We know it's a new kind of model, so we take the time to personally answer any question we receive about the platform."
In summary, ShopENV brings tools to the marketplace that offers a new age ecommerce concept to the business owner. To set up a free account with ShopENV, visit the ShopENV website and get immediate access to all the amazing features today at http://www.ShopENV.com. For savvy business owners who want to take advantage of the VIP service, ShopENV offers premium packages.
For media inquires: Kevin Thompson is available for expert quotes and interviews.
Follow ShopENV on Twitter at http://twitter.com/shopenv
Email: team(at)shopenv(dot)com
Contact Publicist Tatyana Gann at smokinhotpr(at)gmail(dot)com phone 615.354.7265
###