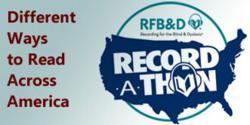 By mobilizing thousands of volunteers to record more books, raise crucial funds, and drive public attention toward the potential of millions of individuals with learning differences, we are truly celebrating 'Different Ways to Read Across America.'
Princeton, NJ (Vocus/PRWEB) February 28, 2011
Across the U.S. this week, a chorus of authors and celebrities will join thousands of volunteers – all lending their voices to a unique initiative making books accessible for students, veterans and other individuals with learning differences.
Staged by the nonprofit Recording for the Blind & Dyslexic (RFB&D), the national Record-A-Thon runs concurrent with the National Education Association's "Read Across America" campaign and peaks on March 2, celebrating the birthday of beloved children's book author Dr. Seuss.
At each of RFB&D's 19 recording studios throughout the country, volunteer readers will log extra hours at the microphone to transform printed textbooks into easy-to-navigate audiobooks – enabling hundreds of thousands of people with visual and learning disabilities to access the content of these books to help them achieve educational success.
"Our Record-A-Thon is a 'tour de force' of volunteerism, philanthropy, and community engagement," says Andrew Friedman, president and CEO of RFB&D. "By mobilizing thousands of volunteers to record more books, raise crucial funds, and drive public attention toward the potential of millions of individuals with learning differences, we are truly celebrating 'Different Ways to Read Across America.' "
RFB&D launched the Record-A-Thon in New York City last week with the help of Barbara Walters, Joy Behar, and Sherri Shepherd, co-hosts of ABC's "The View," who recorded texts to add to the world's largest library of accessible audiobooks. A fourth co-host of "The View," Elisabeth Hasselbeck, will record this week, along with Michael Gargiulo, anchor of WNBC's "Today in NY," and popular children's book authors John Marciano ("Madeline Goes to the White House"), and Peter Brown ("The Curious Garden"). Author, journalist and blogger Jeff Jarvis ("What Would Google Do?") will also participate this week.
At RFB&D's Los Angeles studio, children's book titles will be brought to life by two-time Grammy Award winner Tia Carrere, actors Esai Morales ("The Mambo Kings" and "Caprica"), Sheryl Lee ("Twin Peaks"), Katee Sackhoff ("Battlestar Gallactica" and "24"), and a host of major TV news anchors from the region. In Palo Alto, Super Bowl-winning quarterback and ESPN commentator Steve Young will read, along with Jon Miller, voice of the San Francisco Giants. The Palo Alto studio will also honor one of its most remarkable volunteers – Jane Seaman, who started volunteering in 1967 and has logged over 15,000 hours (more than 1.7 years) of service.
Other RFB&D studios around the country are brimming with activity this week. In Athens, Georgia, Mayor Nancy Denson will be honorary chair and a guest reader; and in Princeton, New Jersey, acclaimed poet BJ Ward has already been logging time at the microphone. In Phoenix, ABC-15's Katie Raml will share her voice along with local authors and legislators. A full list of Record-A-Thon studios can be found here.
The national Record-A-Thon campaign is sponsored by PLEXTALK, a manufacturer of assistive technology devices for people with print disabilities like blindness and dyslexia. Visit Plextalk's new Facebook page here.
Founded in 1948, RFB&D serves more than 300,000 K-12, college and graduate students, as well as veterans and lifelong learners – all of whom are blind, visually impaired, dyslexic or have other disabilities that prohibit them from reading standard print. RFB&D's collection of more than 64,000 digital textbooks and literature titles – delivered through internet downloads and available on Macs and PCs, CD and various assistive technology devices – is the largest of its kind in the world. More than 5,500 volunteers across the U.S. help make RFB&D's content available, which students rely on to achieve educational success and entry into the workforce. RFB&D, a 501(c)3 nonprofit, is funded by grants from the U.S. Department of Education, state and local education programs, and the generous contributions of individuals, foundations and corporations.
# # #