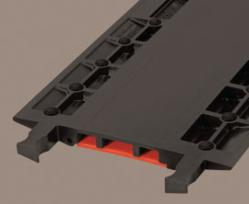 Broomfield, CO (Vocus/PRWEB) February 28, 2011
The rubber pads now available for Guard Dog® Low Profile Cable Protectors from Checkers® Industrial make it the brand that is ideal for industrial uses. With a wide variety of features and choices for the cable protectors themselves and reaction injection molding production technology that ensures safety for many years, these high quality cable protectors are an excellent first choice when protecting against tripping and falling in warehousing, manufacturing and retail display environments. The rubber pads give added traction to the cable protectors on smooth surfaces such as coated concrete, vinyl composition tile and other potentially slippery large open space floor materials.
Additional features of Guard Dog® Cable Protectors include the choice of one to five channels and holding cables from ¾" to 2 ¼" in diameter. Some wires and cables are not round, but more flat in nature, and Checkers has accommodated for this with some cable protectors that are ¾" in height with 1 ¼" to 2 ¼" in width in the cable protector channel. In the flatter case, more than one cable or wire may be strung through the protector as well.
Cable protectors do more than protect cables, wiring and hoses from wear and tear as pedestrian traffic, wheelchairs, golf carts, lift machines, and even heavier automotive traffic pass over them. A main strategy for purchasing the protectors themselves is to ensure safety for the person or vehicle passing over the cable or multiple wires. A safety feature that's a must in industrial situations is protection from tripping and falling since it's been established by OSHA that such risks should be avoided. In addition, the product connected to the cable is protected, should an individual or vehicle become caught on the wire and pull it off of a table, desk or along the floor.
Side ramps on cable protectors, with an edge that prevents tripping and allows wheels to roll over, are generally required for the devices, but not in all cases, especially when more than five cable lines are traversing a warehouse or manufacturing facility. One of the devices offered by Checkers® is called the Guard Dog® Flat Edge Heavy Duty 5 Channel Cable Protector. The flat edge allows it to be placed against a wall or another of the cable protectors with the side ramp only necessary along one edge. The installed rubber pads allow the cable protectors to stay in place next to each other. Permanent application of the rubber pads for Guard Dog® Cable Protectors is a necessity, so Checkers® Industrial has developed Checkers® Clear Super Glue to guarantee that with proper use the rubber pads will not slip off of the protector.
The Guard Dog® cable protectors meet the standards of the National Electrical Code (NEC) for minimizing the tripping hazards at events where many pedestrians will be walking over cables, cords and electrical wiring. This could include indoor and outdoor festivals and carnivals, trade shows and broadcast facilities, among others. The NEC sets the United States standards for the safe installation of electrical wiring with the code itself published by the National Fire Protection Agency (NFPA). Along with this assurance that the cable protectors are safe is the one year warranty offered by Checkers® on the Guard Dog® cable protectors. With the products made in America, purchasers have an even stronger reason for choosing Checkers® products.
Checkers® Industrial Safety Products has been manufacturing and providing superior safety products for nearly 25 years. The company employs service professionals that are trained to provide safety products including cable protectors, wheel chocks and parking stops to improve the safety in the consumer and industrial markets. Most products are made in the USA using reaction injection molding by RimStar technology.
###