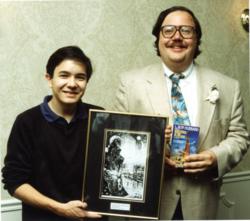 This kind of devoted support and recognition is the most appreciated encouragement I have had so far, giving me more confidence to continue illustrating and writing
Hollywood, CA (Vocus/PRWEB) February 28, 2011
Shaun Tan is an award-winning artist and writer from Melbourne who just took home the Oscar in the Best Animated Short Film category at the 83rd Academy Awards based on his book, The Lost Thing.
It was in 1992, at 18 years of age, when he won his first major award, the L. Ron Hubbard Illustrators of the Future Contest, the first Australian to win this prize. And it was also after winning his Illustrator Award that Shaun originated, "This kind of devoted support and recognition is the most appreciated encouragement I have had so far, giving me more confidence to continue illustrating and writing."
He has demonstrated that confidence by building a successful career and becoming a multiple Ditmar, World Fantasy and Hugo award winner, culminating last night in an Oscar for his graphic book The Lost Thing, where he acted as designer, director and artist. The 15-minute short film took the top award in a field consisting of "Day Night" (Teddy Newton), "The Gruffalo" (Jacob Schuh & Max Lang), "Let's Pollute" (Geetwee Boedoe) and "Madagascar, carnet de voyage" (Bastien Dubois).
In his acceptance speech, Shaun stated, "Wow, this is quite surreal. Our film is about a creature that nobody pays any attention to, so this is wonderfully ironic…. Thanks Academy." For more information on this year's Academy Awards, go to http://oscar.go.com/nominations
For more information on Illustrators of the Future, go to http://www.writersofthefuture.com.
# # #