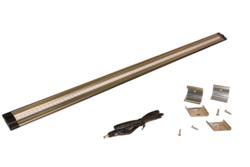 Use under cabinets, for cove lighting or work areas ... they are just so versatile and offer incredible light performance.
(PRWEB) November 13, 2012
"People love our LED Under Cabinet lights" says Duane McCall former NASA engineer and current President and CEO of DEKOR™, a Colorado based designer and innovator of LED lighting products. Indeed DEKOR™'s LED Under Cabinet Light Bars have been heartily embraced by the public since their introduction in 2011. "They buy them for the long warranties, the quality and the value. They love them for the warm glow they add to the kitchen, how they make the kitchen look, the painless installation, and the energy they save."
Now after numerous requests for a longer light bar with much higher light output, DEKOR™ is introducing new LED Under Cabinet Light Bars in a 24" length. These new 24" LED light bars have all the features of the original 12" LED light bars but offer the advantages of using fewer cables over longer cabinet installations, or fewer connections for uninterrupted long runs. They also provide improved performance in terms of more even lighting for wall washing or when used upside down for cove lighting.
"I see them being used with all kinds of lighting from cove lighting to work areas, they are just so versatile and offer incredible light performance" states Mr. McCall.
The LED light bars are available individually or in a kit of 2. "We decided to put the lights in kit form which includes the transformer so there is no guessing about what else is needed for a project. The kit approach by DEKOR™ truly makes the buying experience easy for our customers."
24" UNDER CABINET LED LIGHT BAR HIGHLIGHTS

Dimmable
Smooth, even illumination
No hotspots or shadows
Easy install and easy clean
Plug and play connectors
Modular with a wide range of controllers and accessories
Large beam angle (110°):  to light more of your countertop or task surface
Ultra thin:  less than 1/2"  high for easy hiding under your cabinets
Higher CRI index of 80%
Excellent light quality
Warm white color spectrum with correlated color temperature (CCT) of  3200°K
High light output of 420 lumens from 84 discrete Cree LEDs
Long lasting: bulb life of > 30,000 hrs
Durable extruded aluminum housing with a corrosion-resistant anodized finish
Slash proof enclosure which is easily cleaned with simple water and soap
5 year warranty when used with a DEKOR™ brand LED transformer.
THE LED ENERGY ADVANTAGE
Even with the new 24" length, these new LED under cabinet lights are still much more energy efficient than other lighting types on the market (xenon, halogen, and fluorescent lighting) . They are always cool to the touch (heat means wasted energy). One LED light bar consumes the same amount of electricity as a single 5 watt nightlight bulb. You just won't see any change in your light bill with these lights. In fact you'll probably see a decrease if you're replacing any other type of lighting other than LED.
CREE LED CHIPS : BEST IN CLASS LED LIGHTING
The new 24" LED light bars use US-made CREE LED chips for superior performance, super bright light and long life. CREE chips also have a greater L Value, meaning that there is less "light loss" over time. CREE chips also have a higher CRI or Color Rendering Index than typical LEDs.
"So our LED Light bars present colors very closely to what they actually are" says Mr. McCall.
BY POPULAR DEMAND
"We expanded our under cabinet light offerings earlier this year in response to the feedback we received from our customers," said Mr. McCall. "We now have a high output LED Under Cabinet Disc Spot Light, our task lighting solution for cutting or food prep areas. We also added directional spot lights, a motion activated controller, a low profile dimmer, and add on switches for our original light bars to give you more design freedom and more control over your under cabinet light installation … all you need to design the ultimate multi-tasking kitchen counter or just add ambiance and elegance to your home. "
With these new, longer 24" LED Under Cabinet Light Bars, DEKOR™ continues to build on its successful line of under cabinet lighting products. "Like all DEKOR™ products, these new LED lights are the pinnacle of LED quality. Easy to install, long lasting and durable. Well designed, well engineered and well built. The best value for your hard earned money."
"This is what we do: use innovative LED technology to create the best quality products to enhance your lifestyle and your home."
To learn more about DEKOR™'s new 24" LED Under Cabinet Light Bars and Light Kits, please visit the DEKOR™ websites:
USA & INTERNATIONAL
http://www.de-kor.com/under-cabinet-led-lighting.html
CANADA
http://www.de-kor.ca/under-cabinet-led-lighting.html
ABOUT DEKOR
"Celebrating 10 years of Lighting the Night".
Over the last ten years DEKOR™ has grown from its roots as a premium baluster manufacturer into a leading designer and innovator of LED lighting products that transcend the deck industry. As our list of satisfied customers has overwhelmingly grown, they all appreciate the durability, look, and ease of installation of our products. Simply put, our products give unprecedented quality performance with the utmost long-term value.
DEKOR™ is an EnergyStar Partner.