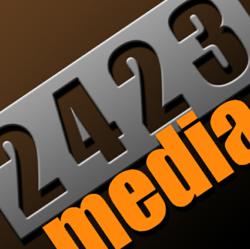 Oakland Park, FL (PRWEB) July 20, 2011
2423 Media, LLC offers motion graphics production services to video production companies, A/V companies, broadcasters, advertisers and video enthusiasts who need customized animated graphics to make their projects or events unique.
2423 Media's purpose is to provide high quality animated graphics to small and medium sized production companies and businesses that utilize video media. 2423 Media realizes that many businesses are unable to both employ specialized staff and maintain the software required to produce high quality graphic elements used in every aspect of today's media. For this reason, 2423 Media is positioning itself to be a viable outsource resource for companies and individuals who need to their work to stand out. 2423 Media believes that for many companies, outsourcing animated graphics can both reduce overhead costs and increase customer satisfaction. An example of 2423 Media's range of work and additional information can be found online at http://www.2423media.com
2423 Media's mission is to provide its customers with high quality motion graphics at affordable prices to help them "wow" their clients and protect their market share. 2423 Media, LLC is a privately held company based in Oakland Park, Florida.
###