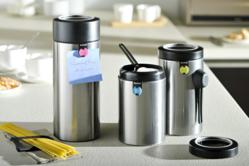 Brabantia is practically a household name in Europe, and it brings us great pleasure to unveil many of our best-selling products to the U.S. marketplace
(PRWEB) March 02, 2011
East Rutherford, NJ (PRWEB) March 2, 2011 -- Brabantia Solid Company, one of Europe's oldest and most respected designers and manufacturers of high end, high quality and high style home steelware products, will unveil several exciting, intelligently designed products at the 2011 International Home and Housewares Show in Chicago, March 6-8. Among the items making debut appearances are: Get Together, Brabantia's new line of contemporary tableware and home entertaining accessories; the powerful, compact and brightly colored Quick Pull Corkscrew; a new collection of modern, streamlined stainless steel kitchen countertop canisters with clear lids and magnetic spoons; as well as two models of the popular Deluxe Ironing Boards – a Williams-Sonoma Catalog best seller.
"Brabantia is practically a household name in Europe, and it brings us great pleasure to unveil many of our best-selling products to the U.S. marketplace," says Nicole Gnudi, Managing Director of Brabantia USA. "This year, we have a host of items to dazzle consumers. Our new Get Together line of porcelain, stainless steel and tabletop items is already generating a lot of buzz in the kitchen and housewares space. We are so happy to now be able to share this line, along with many of our other premier products, including our Deluxe Ironing Boards in the Swirl and Moving Circles patterns, Quick Pull Corkscrew, and a new stainless steel canister set with clear lids and magnetic, attaching spoons, with the American public. I think they're going to be a big hit."
Among the exciting new products that Brabantia will be featuring at the Show, are:
Get Together: Add Color, Style & Individuality to At-Home Get Togethers
Brabantia's Get Together line of products includes cups, bowls and plates, stainless steel and wooden serving pieces and accessories as well as colorful silicone coasters and trivets – all designed with elegance, simplicity and functionality in mind. Available in three easy to mix and match color schemes – white, grey and purple – Get Together creates stunning, customizable tablescapes that fit any style and any budget. Whether you buy the entire collection or just add key pieces to your existing tableware, Get Together adds sparkle and vibrance to any lifestyle.
Price: $4-40.
Deluxe Ironing Boards: The Rolls Royce of Ironing Boards
Brabantia's new deluxe, professional grade ironing boards are crafted from sturdy stainless steel and adjust to four different heights to make ironing easier and more comfortable. A handy rack folds out automatically to hold freshly pressed laundry and the attached iron rack easily accommodates left or right-handed users. The extra wide boards mean ironing even the largest laundry items is a snap and the child lock prevents little fingers from getting caught and the boards from collapsing. Non skid rubber feet also protect floors and keep the boards in place, even on slippery surfaces.
The boards come with Brabantia's 10-year guarantee of quality craftsmanship and construction, as well as a choice of patterns: Swirl or Moving Circles. It is exclusively available on Williams-Sonoma.com and via the Williams-Sonoma catalog.
Price: starting at $140.00.
Stainless Clear Lid Canisters with Magnetic Spoons: Stylish & See Through
Now you can store your tea, coffee, sugar and other foodstuffs in Brabantia's new stylish and elegant stainless steel kitchen canisters. Perfect for leaving out on the counter or storing in a drawer, this new set offers clear lids that show you exactly what's inside as well as a handy labeling system that let's you create a personal label for each canister. Available in three sizes, the 1.4 litre and 1.7 litre canisters feature a smart, magnetic measuring spoon that attaches to the side, and the 2.2 litre canister comes with a handy spaghetti measure. Made of durable, easy-to-clean heavy gauge stainless steel, our canisters come with our 10 year guarantee.
Price: starting at $20.00.
With headquarters in The Netherlands and offices around the world, as well as a branch just outside Manhattan, Brabantia is rapidly becoming a market leader in the United States. To view the Brabantia products at the Home & Housewares Show, please visit BOOTH #S4439 – South Hall.
About Brabantia
At Brabantia, the domestic items of tomorrow are what we are producing today. Our products are designed to retain their style and performance for decades. It's more than a guarantee. It's what drives the company. Brabantia products are available at fine retailers such as Williams-Sonoma, Crate and Barrel and Gracious Home, as well as The Container Store and Macys.com. For more information, visit http://www.brabantia.com.
###