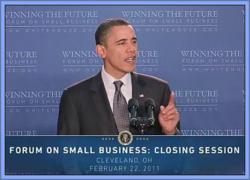 We appreciated being recognized by the President and by our peers in Northeast Ohio
- Norma Byron, President, Ashlawn Energy
(PRWEB) March 03, 2011
Cleveland, OH (PRWEB) March 3, 2011 -- President Barack Obama referred to Ashlawn Energy's VanCharg vanadium redox flow battery as "One of the coolest things he has ever said out loud" at Cleveland State University on February 22nd, 2011. Ashlawn Energy's VanCharg™ flow battery is being developed and produced in Northeast Ohio for the City of Painesville's Energy Storage Demonstration Project under a matching Department of Energy Smart Grid Award. The VanCharg™ battery represents transformational technology that seeks to modernize the electric grid and potentially create hundreds of high-tech jobs in Northeast Ohio.
President Barack Obama: "Ashlawn Energy … provides multi-megawatt energy storage solutions using vanadium redox fuel cells. That's one of the coolest things I've ever said out loud … With help of an award from the Department of Energy's Smart Grid Program, Ashlawn Energy is poised to manufacture a next-generation energy storage system in Painesville that will improve efficiency. It will help families and businesses cut down on energy waste, save money and reduce dangerous carbon pollution. And they're also retraining local workers with the skills necessary to manufacture new components." View a video of the comments.
Ashlawn Energy, LLC also received NorTech's prestigious Advanced Energy Innovation Award, recognizing their progress developing energy storage for Painesville, Ohio. NorTech and Crain's Cleveland Business jointly presented this award to Ashlawn Energy on February 24th 2011.
Norma Byron, President of Ashlawn Energy, added: "We appreciated being recognized by the President and by our peers in Northeast Ohio. We have an exciting vision to modernize the US power grid with help from the department of Energy and the Ohio manufacturing base. We are committed to creating high-tech manufacturing jobs and the engineering talent and generations of manufacturing experience in the northeast Ohio area are key to the success of this effort"
Flow batteries (also known as regenerative fuel cells) offer grid-level storage over long periods to improve efficiency and reduce carbon emissions from traditional power sources such as coal plants. They will serve as the "missing link" needed to connect intermittent power sources such as wind and solar to the US power infrastructure.
Ashlawn Energy, LLC is headquartered in Alexandria, VA. Ashlawn innovates vital energy storage solutions to challenges facing communities today. To learn more about Ashlawn Energy and vanadium redox flow battery technology, please visit the web site: http://www.ashlawnenergy.com
NorTech is a regional nonprofit technology-based economic development organization serving 21 counties in Northeast Ohio that serves as a catalyst for growing Northeast Ohio's emerging technology industries. NorTech leads efforts to develop regional innovation clusters that create jobs, attract capital, and have a long term, positive economic impact.
###