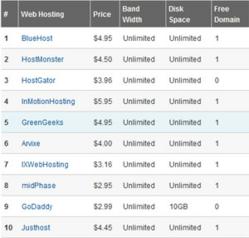 Our reviewers also look at each web hosting niche, and find out the best web hosting solutions based on the specific needs for each type of site, with which our visitors could receive a clear guide to make the right choice when purchasing a plan
(PRWEB) March 03, 2011
San Francisco, CA (PRWEB) March 3, 2011 -- WebHostingClue.com, a leading web hosting review and guide media, today release their 2011 Best Web Hosting report, in which Bluehost wins the most popular web host for second year.
The web hosting review board from webhostingclue.com looks at the overall performance of each web host and selects out "Top 10 Web Hosting" based on the price value, reliability, control panel and customer support. And we understand that people are not just looking for something great in general, what they really need is a web hosting to meet their web site's requirements best, such as a web hosting for WordPress blog, Joomla site or a forum. So, "Our reviewers also look at each web hosting niche, and find out the best web hosting solutions based on the specific needs for each type of site, with which our visitors could receive a clear guide to make the right choice when purchasing a plan," said the Chief Reviewer from WebHostingClue.com.
Bluehost wins the Best Web Hosting award for the second year; this is mainly because of their unbeatable price, reliable product, and word-class customer support. Besides these, what impressed us a lot is their "Anytime Money Back" guarantee, with this term in place, Bluehost really push themselves to provide the best product and best support to their existing customers.
In this year, some web hosts draw our attention for their fast growth in the industry and are added to our review list, such as GreenGeeks and Arvixe. GreenGeeks is run by one of the most respected CEOs in the web hosting industry who advocates for eco-friendly web hosting solution. Not just green hosting, they also put a lot of effort to provide better product and support to their customers to run all types of popular applications, such as WordPress, Drupal and Joomla, etc.
Besides the Top 10 Web Hosting awards, you also can check out our Best Web Hosting awards for each niche, including:

Best Drupal Hosting
Best Joomla Hosting
Best WordPress Hosting
Best Small Business Hosting
Best Green Hosting
Best Linux Web Hosting
Best Windows Web Hosting
Best VPS Hosting
Best Dedicated Hosting
And more.
# # #