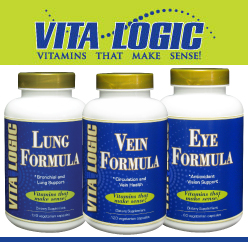 We are very proud of these new therapeutic formulas as this is our first release with vegetarian capsules.
Columbus, GA (PRWEB) March 14, 2011
In response to ever-changing nutritional needs, Vita Logic, the makers of best-selling multi-vitamin/mineral Daily Extra, has launched three new products: Eye, Lung and Vein Formulas to complement an already expansive, 41-product Vita Logic supplement line. The three Vita Logic formulas are the company's first offering of vegetarian capsules, created to suit customers looking for those specific needs and can be found at the Institute for Healthy Living (ShopIHL.com).
"We are very proud of these new therapeutic formulas as this is our first release with vegetarian capsules," said Bryan Hatcher sales manager for Vita Logic brands. "This will enable a growing segment of the health-conscious population like vegetarians to benefit from our newest tried and tested products."
Vita Logic's Eye Formula contains powerful minerals and antioxidants including alpha-lipoic acid and bilberry, and potent carotenoids including astaxanthin/zeaxanthin and lutein. The synergistic blend of ingredients meets the rising demand for supplements to deter and address eye diseases such as macular degeneration and cataracts. Eye Formula is also suitable for those spending hours straining to look at a computer screen.
In addition to the Eye Formula, Vita Logic's new Lung Formula provides supporting herbs: anise, thyme and astragalus for their antimicrobial properties; plus expectorants, English ivy and elecampane to moderate mucus; and adaptogenic herbs for a soothing effect on an irritated pathway. With the increasing amount of chemicals and pollution in our environment, Lung Formula protects the lungs and immune system from chronic irritation and adverse respiratory sensitivities. It also provides relief from coughing and heaviness in the chest.
Because vascular health is a primary concern when chronic issues such as high blood pressure and arteriosclerosis arise, Vita Logic's Vein Formula assists in normal blood viscosity, movement and restoration. The formula is all-encompassing, as imbalances can occur from immobility, standing too long, other lifestyle problems especially smoking, side effects from medications, injury, obesity, pregnancy, and other serious problems. High percentages of antioxidants like grape seed extract, and herbs including gotu kola, horse chestnut and butcher's broom work in combination to reduce inflammation and stimulate circulation.
"Being able to help people on a day to day basis is a great feeling. Being more inclusive with these new Vita Logic categories just adds to that," Hatcher said.
Vita Logic is often mentioned on nationally-syndicated health talk radio show, "Duke and the Doctor," which airs in over 150 markets.
All of Vita Logic's products are available at vitalogicvitamins.com.
About Vita Logic Vitamins
Founded in 1994, Vita Logic was established with the mission to produce supplements that would meet the highest standards of quality and at the same time give the customer the best value for their money. What started with the formulation of the multiple vitamin and mineral supplement, Daily Extra, has now grown into a family of products addressing various health needs. The formulary design team includes a board-certified medical doctor, allowing Vita Logic to stay on top of the latest research and keep customer safety a top priority. Being a member of the NPA, Vita Logic puts their full confidence in the unsurpassed quality of their products. To visit the company's website, go to http://www.vitalogicvitamins.com.
# # #