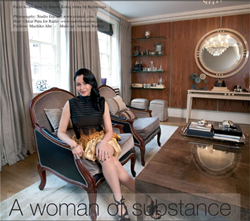 At the time I was unsure of what I really wanted to attain in my career, but knew that business training and a financial background would be of value in whatever I might set my heart on
(PRWEB) March 25, 2011
To the initiated, Faiza's striking allure and restrained yet evident trappings of success might suggest an entirely charmed life. We are sitting in the drawing room of her Mayfair apartment., ensconced in opulent armchairs created by her own Interior Design London company. Distracted by the shimmer of jewellery in the gleaming surface of a J.Robert Scott coffee table, it's tempting to indulge in extended enquiry about such fripperies as favoured fashion houses, adored shoe designers and beloved travel destinations. But to do so would miss the point.
Born in India and raised in the US, Faiza eschewed the convention of being a socialite wife and refused the easy opportunity of working in the family apparel business. Instead she tool a demanding job at Lehman Brothers. Next came an MBA at Stanford, one of the world's most exacting business schools, punctuated with a spell at Morgan Stanley. "At the time I was unsure of what I really wanted to attain in my career, but knew that business training and a financial background would be of value in whatever I might set my heart on," she explains.
Motivated by a deep desire for independent achievement, a chance meeting with Luigi Espositio, the man who was to become her business partner in Casa Forma, resulted in a venture that is expanding as fast as she can imagine. "With Lehman's no longer around, I can admit that I didn't really love my job there," Faiza confesses. "I value that experience, but you're talking to a girl who likes to carry an easel and paints on her travels. They had little concern for my artistic fulfilment in equity capital markets!"
Today the business has a team of fourteen designers, architects and support staff working on seventeen concurrent projects in three continents. Headquartered in Kensington, and now with an office in New Delhi, the team provides an integrated service that comprises both the structural and aesthetic aspects of property remodelling. The majority of commissions have been for luxury residential properties and the need for client discretion explains why Casa Forma's remarkable growth within such a coveted market has largely taken place under the radar.
Faiza is unequivocal about what differentiates Casa Forma from market rivals. Telling me that its ethos "is ruled as much by function as form". I sense a manifestation of Faiza's pragmatic sensibilities combined with Luigi's technical skills. As she talks me through the Casa Forma portfolio it's evident that the company takes a considered approach that results in a well-resolved balance between style and usability. Classical, Deco and Modernist influences coalesce into an ambience that is subtly sumptuous, sophisticated and expertly moderated.
"We espouse a layered methodology that readily accepts adaptations," Faiza explains. "In contrast to some celebrity interior designers, who tend to impose their particular sense of style. Casa Forma achieves a suppleness that assumes that inimitable patina of its owner's personality." I counter with the suggestion that Casa Forma's combination of glamour and functionality shows evidence of Faiza's personality "Perhaps," she smiles. "We certainly want to deliver a result that works as well as it looks." Sensing an appeal for clarification, she adds, "I think that interior design is very personal; it's where you begin and end your day so it's essential to your well being. It's important to realise that our design process is very collaborative. We spent a huge amount of time with our clients, working on what can be quite intimate aspects of their life. Trust is fundamental and many go on to become friends. Introductions to friends and family means we become part of their social circle."
Future plans for Casa Form include finalising a Casa Forma showcase project in New Delhi. The design is a contemporary interpretation of the colonial style: there is a blend of Anglo-Indian influences, with features such as gazebo, veranda and garden sculptures that connect the inside and outside spaces. This holistic approach to interior and garden design is entirely familiar in an English setting, but hasn't been significant in India since independence.
Faiza is also putting the finishing touches to a range of scented candles and has an idea for a furniture collection. Surely she gives herself some time to relax? "When I'm working I enjoy being busy; it's exhilarating. When I take time off then I also like to be fully engaged in whatever I'm doing, whether walking my two Yorkshire Terriers in the park or lounging by the pool immersed in a good book."
Please View website at http://www.casaforma.co.uk/
###