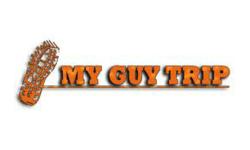 San Francisco, CA (PRWEB) March 29, 2011
My Guy Trip, a company that provides men with thrilling adventure vacations, now arrives in San Francisco. Equal parts adrenaline rush and good old fashioned male bonding, clients of My Guy Trip embark on journeys that they will talk about for years.
These adventures aren't the typical booze fueled weekend rages. Leave the kid stuff to the kids, these mancations are for men.
The journey begins at the luxurious Parc55 and goes wherever the men want it to. The adventure arsenal includes a wide variety of exciting activities ranging from relaxing excursions such as hiking, kayaking, and mountain biking to workshops and training in glass blowing, blacksmithing, windsurfing. Other thrill-seeking adventures include bungee jumping, skydiving, fire eating, rock climbing and even a falconry experience. For those who need even more adrenaline pumped into their trip; cage diving with Great White Sharks, performing aerial acrobatics, and white water rafting are available options at My Guy Trip.
My Guy Trip offers three exciting mancation packages. The Weekend Warrior, which includes a two-night stay at Parc 55, and any two of their manly men adventure activities, starts at just $599. The Enthusiast, which includes a three-night stay at Parc 55 and three crazy activities starts at just $799 with an additional night for $50. For the true adventure trooper, The Enlightenment package will quench the thirst of the most die-hard adrenaline junkie. Included in this package is a six night stay, four mantivities and stories to tell for several years to come. This adventure vacation of a lifetime package starts at just $1199.
Transportation isn't an issue either. My Guy Trip provides private limousine airport transfer; then provides a rental car from My Guy Trip's partner Zip Cars with parking, gas, and insurance included.
MyGuyTrip.com owner, Greg Larkin, says, "MyGuyTrip is dedicated to providing unique vacations that appeal to the male adventure seeker. We want our vacations to be remembered for years afterward to the point where we become an annual part in our clients' lives. We invite every man to come out, experience the gorgeous San Francisco Bay Area, renew and build friendships, challenge their inner man, and maybe even pick up a hobby or two."
My Guy Trip plans the week-long mancation that will change everything.
For more details and information My Guy Trip's Ultimate Mancation visit http://www.globalarticlesnews.com
# # #