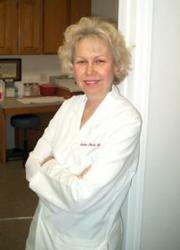 Prescott, AZ (Vocus/PRWEB) March 01, 2011
Robin Fleck, M.D., founder and medical director of Body Oasis Laser Aesthetics and Medi-Spa in Prescott, Arizona, is pleased to announce the arrival of the Lumenis Light Sheer Duet hair removal laser, the newest addition to her ever-expanding esthetic practice. This laser is just one of the many treatments offered at Body Oasis Laser Aesthetics. Dr. Fleck's laser center is the only medical spa in Northern Arizona to carry this exciting hair removal technology. If you're looking for treatments ranging from hair removal, tattoo removal, wrinkle reduction or even spider vein removal, Body Oasis Laser Aesthetics has a laser and a solution for you.
The Lumenis High Speed Light Sheer Duet laser for permanent hair reduction is a laser hair removal system with two advantages: extra speed and, most of all, patient comfort. By using a powerful vacuum-assisted technology, treatment can be done within fifteen minutes, unless your name is King Kong!! Even large areas like backs, arms, and legs can be done in short order. With this laser, hair removal is done in a series of six to eight monthly treatments to get sexy, smooth skin.
"We are ecstatic to have the Light Sheer Duet. This laser allows you to be treated quickly, with no discomfort. Messy pre-treatment anesthetic cream, is now a thing of the past," states Maureen Brogan, Body Oasis Spa Coordinator. "With this new technology we can perform laser hair removal painlessly in half the time."
Laser hair removal has completely revolutionized the problem of unwanted hair. With laser hair removal being the most sought after treatment in the United States today, Body Oasis is poised to corner the market in Prescott, Sedona, Flagstaff, and Anthem, Arizona with this fast painless laser.
"Laser hair removal in the bikini line is the most popular procedure we do at Body Oasis, followed by facial hair, backs (specifically for men) and underarms," notes Lisa Ramirez, laser technician at Body Oasis Laser center. "The Duet is the first breakthrough in laser hair removal that we have seen in the past decade. This technology is the new Gold Standard for laser hair removal and our clients couldn't be happier."
Dr. Robin Fleck, board-certified dermatologist and director of Body Oasis Laser Aesthetics notes, "As technology has improved, lasers have been customized for each treatment modality. The laser can be adjusted depending on an individual's skin type and hair color, coarseness and other characteristics. This specificity ensures the best laser hair removal outcomes."
In addition to the new hair removal laser, Body Oasis Laser Aesthetics has added the Palomar Q YAG tattoo removal laser. Tattoo removal has become very popular, especially among women. When your tattoo no longer looks the same as it originally did due to aging, pregnancy or weight gain, the Q YAG tattoo removal system gives the fastest, most painless treatment. Men and women who have lived for years with the "Regret Tattoo" can clean the slate and have a fresh start with the Q YAG laser.
Looking younger is a snap using the Q YAG laser for skin rejuvenation. Uneven pigment and spider veins clear in just one to two sessions to reveal clearer, more attractive skin. The Q YAG does more than just remove unwanted tattoos; the laser has a treatment for pigment and vessel clearance that's fast, easy, well tolerated and leaves patients with remarkably youthful skin.
Body Oasis offers more than just tattoo and hair removal. This medical spa boasts seven different lasers, all of which are used for treatments ranging from spider veins to freckles and rosacea, broken capillaries, and severe sun damage. The Smoothbeam laser, available at Dr. Fleck's laser treatment center, improves acne and acne scarring, fills in fine wrinkles above the lip or in the crow's feet area without downtime. A lunchtime procedure once a month can stimulate the skin's own collagen and fill in fine wrinkles above the lip or in the crow's feet area and improve acne scars.
Another offering from Body Oasis Laser center is the Nd-YAG laser treatment, which safely removes facial veins, spider veins on legs, and tightens lax skin on the neck. One of the hottest trends right now is the use of lasers to heat the underlying layers of skin, and thereby force the body to grow new collagen. The result is similar to a facelift, without having the risks of going to a surgery center. The Nd-YAG laser safely removes hair in darker complexioned individuals without the risk of scarring or whitening of the skin. Patients suffering from ingrown hairs or shaving bumps can get relief with the Nd-YAG hair removal laser.
For spider veins, the Nd-YAG laser is definitely up to the task. Spider veins exist closer to the surface of the skin and are small, red or purple lines appearing as unsightly blemishes. The Nd-YAG laser treatment is a simple cosmetic procedure to eliminate those difficult to conceal, ugly, dark, embarrassing spider veins and blemishes permanently. This new-generation laser system allows such a precise delivery that no surrounding tissue is harmed. Spider veins disappear, leaving your skin flawless as it's meant to be.
"One of the most popular esthetic treatments we do at Body Oasis today is our signature "liquid facelift" lunch-hour procedure. Women love this fifteen-minute procedure using Botox or Dysport, Radiesse, Perlane, or Restylane. This treatment helps to restore volume and fullness to the face to correct eyelid bagginess, sagging jowls and marionette lines," observes Maureen, who assists Dr. Fleck with these rejuvenating makeovers.
Another top of the line laser available at Body Oasis Laser Aesthetics is the Active FX fractional CO2 resurfacing laser, which continues to be an ideal method for eliminating moderate to deep lines and age spots due to premature aging and photodamage. Skin resurfacing with fractional technology is a tried and true approach to skin rejuvenation, precisely removing layers of skin to correct fine lines and wrinkles, acne scars, and repair skin discoloration. The results of laser resurfacing are generally quite dramatic and long-lasting. Risks of permanent pigment loss are a thing of the past with the Active FX fractional laser.
In this environment of ever-expanding cosmetic treatment options, choosing a specialist or cosmetic dermatologist you can trust to help you select a treatment and to perform it properly is of the utmost importance. "Each of our patients receives personal attention and individual treatment plans that are developed especially for them," notes Jessica Peters, Certified Medical Assistant for Southwest Skin and Cancer Institute. "Dr. Fleck has many years of experience as a laser specialist and cosmetic surgeon, so patients count on her for a professional assessment of what will work best for them."
Cosmetic dermatologist and vein specialist, Robin Fleck, MD is a double-board certified dermatologist and internist, recognized by the American Board of Dermatology and the American Board of Internal Medicine. She is founder and Medical Director of Body Oasis Laser Aesthetics in Prescott, Arizona, and is a fellow of the American Society of Laser Medicine and Surgery and the American Academy of Dermatology. Dr. Fleck is also the founder of Southwest Skin & Cancer Institute http://www.bodyoasislaser.com/ and Vein Specialties http://www.prescottvein.com/ in Prescott, Arizona.
To learn more about Body Oasis Laser Aesthetics and what our lasers can do to improve your appearance and turn back the clock, please visit http://www.rejuvadoc.com or call (928) 778-0414.
# # #