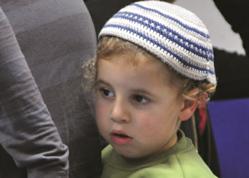 The IFCJ is committed to helping Israel protect her citizens.
Chicago, IL (Vocus/PRWEB) March 25, 2011
"Terror is a part of our daily life," said one mother of two children following a recent attack on Israel. Another resident, a young husband named Mark, added: "There have been days that the rockets didn't stop falling, and then we hear that the world condemns us for defending ourselves. It's heartwarming to know that we're not alone and that there are Christians who love us."
With an increase of attacks on Israel, including a bus stop bombing in Jerusalem Wednesday, a series of missile attacks on towns in southern Israel, and the brutal murder of a Jewish family in the West Bank, the International Fellowship of Christians and Jews (IFCJ) has called the attacks on civilians "indecent violations of human rights" and approved additional aid to protect the citizens of Israel.
Rabbi Yechiel Eckstein, founder and president of the IFCJ, said: "We condemn these attacks as indecent violations of human rights and as acts forbidden by every faith tradition. No one should have to fear this grave danger as they go to work, take their children to school, or go the market."
After the first of several missile attacks near Be'er Sheva, Rabbi Eckstein announced that the IFCJ has donated $280,000 to help that hard-hit municipality renovate and equip its public bomb shelters. Two Grad-model rockets struck a residential neighborhood in Be'er Sheva Wednesday, causing extensive property damage and closing schools throughout the city of more than 200,000 residents. This donation is the latest in a series of funded security projects in Israel totaling almost $13 million and was made possible by donors to the IFCJ, most of whom are Christians in North America.
"At the IFCJ, we help the people of Israel deal with these sad realities by supporting programs that offer protection from the effects of war and terror, as well as comfort and aid to their victims," Rabbi Eckstein said.
In addition to aid for bomb shelters, the IFCJ has committed substantial funding for building a trauma surgical suite at Shaare Zedek Hospital, where several victims of Wednesday's bomb attack in Jerusalem were taken for treatment. The IFCJ also funds equipment for "first responder" emergency teams like the ones that raced to the bomb site in Jerusalem Wednesday, and for emergency, fire and security vehicles for towns near the border.
"The IFCJ is committed to helping Israel protect her citizens," Rabbi Eckstein said.
"Thousands of Christians who support the humanitarian efforts by the IFCJ have indicated that they are praying for the peace of Jerusalem and for an end to the terrorist violence that is taking the lives of innocents and making every day a time of anguish," Rabbi Eckstein said.
As a lifelong resident of Israel, Mark—the young Israeli—is grateful to the IFCJ for helping renovate bomb shelters in his community. "It makes us feel so good to know that Christians in America care about us," he said. "We feel much safer knowing that they're here for our protection."
The International Fellowship of Christians and Jews (IFCJ), headquartered in Chicago and Jerusalem, was founded in 1983 by Rabbi Yechiel Eckstein for the purpose of building bridges of cooperation and understanding between both faith communities and together supporting Israel and Jews in need throughout the world. To date, the IFCJ has raised two-thirds of a billion dollars to support programs aiding the sick, elderly, orphaned and at-risk populations in Israel, the former Soviet Union, Ethiopia, India, Latin America, and Arab countries. For more information about IFCJ programs and projects, visit http://www.ifcj.org.
###