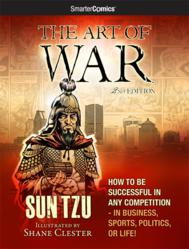 "The underlying principles of conflict haven't changed in the last 2,500 years". Franco Arda, CEO SmarterComics
Palo Alto, CA (Vocus/PRWEB) March 15, 2011
It is this latter element that dominates Sun Tzu's classic "The Art of War." Two millennia after he laid out the original treatise on bamboo, Tzu's brilliant insights on human relationships, the nature of competition, and the art of winning still apply both on the battlefield and in the modern day boardroom.
Now, Sun Tzu's remarkable work is acquiring a 21st century style presentation, thanks to Smarter Comics' innovative series of illustrated business books. Sun Tzu's writings have been re-translated for the digital age and paired with a series of vivid illustrations taken from 21st century life. Be forewarned: although the book is short enough to be read in just 30 minutes, its subtleties can be studied for years or a lifetime even.
The nuances of Sun Tzu's text and how they apply to contemporary settings make translating and illustrating "The Art of War from SmarterComics" for the 21st century an engaging project. Organizations such as poker, law, sports and business may appear, on the surface, to be vastly different from what they were in 500 BCE, but the underlying principles remain the same. Whether you're fighting with swords in the mountains or competing with a coworker on an international Skype call, learning how to read your opponent and turn their weaknesses into your strengths is a skill that never goes out of fashion.
Sun Tzu's elegant descriptions and thoroughly meditated lessons can only benefit from contemporary visual accompaniment. As Tzu explains, "All warfare is based on deception." What does this mean to a society in which a significant percentage of the population maintain online personas courtesy of social networking sites? 'Deception' itself has increased in both complexity and scale since the initial publication of Tzu's work. Incredibly, the wise master's words continue to resonate in an age where 'friend' is a verb. And while "the goal of the skillful general is not to win battles but to prevent them when possible," what does it mean in an era when governments can be overthrown by Internet executives?
By carefully matching Tzu's wisdom with absorbing illustrations, Smarter Comics has created a work that retains its age-old wisdom while becoming visually captivating for a generation raised in a state of constant information bombardment. The 21st century is faster and louder than any of its predecessor, but as Sun Tzu understood, the rules of the game remain the same.
One of SmarterComics' titles on great business strategy, the newly edited and illustrated "The Art of War from SmarterComics" is poised for release to bookstores on April 16th and priced at $12.95 for a physical copy (published by http://www.roundtablecompanies.com ). The free eBook (online) version is already available. For more information please visit http://www.smartercomics.com
###