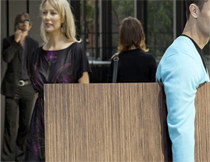 We chose Parksite as an exclusive distributor because we know that it invests in its business, people, and customers.
Batavia, IL (Vocus/PRWEB) March 01, 2011
Parksite is pleased to announce that it is now distributing Arborite's complete line of high pressure laminate in the greater Chicago area. Since 1948, Arborite has grown to become one of the world's most innovative high pressure laminate suppliers.
"Arborite's name is synonymous with high-pressure laminate. The company has a 60+ year reputation for delivering quality and reliability," said Tony Millhouse, Parksite's Director of National Surfaces Sales. "By distributing Arborite's laminate lines, we are delivering quality products to our current and future customers. We know they'll value having access to high pressure laminate as another option for their fabricating purposes."
"We chose Parksite as an exclusive distributor because we know that it invests in its business, people, and customers," said John Scott, Arborite Regional Sales Manager. "Parksite's approach to its customers embodies the vision that Arborite supports to increase brand awareness and success in an expanding U.S. market."
Parksite's surfaces division directly supplies and supports fabrication shops that service the residential and commercial markets as well as the RV and boating markets. Parksite has a dedicated staff working with builders, remodelers, and designers to help them make educated decisions about all horizontal surfacing projects.
As a single source supplier, Parksite enables fabricators to streamline their buying processes by providing all types of surfacing options, including DuPont™ Corian®, DuPont™ Zodiaq™, granite and now high pressure laminate, by Arborite. Parksite customers have a variety of options for countertops, vanities, enclosures, walls, and reception desks. Parksite is the exclusive distributor of Arborite in Chicago with plans to expand to other markets.
Arborite offers numerous laminate collections and patterns, premium textures, and more than 200 colors to choose from. It caters to the commercial building industry.
About Parksite
Parksite is an employee owned company that provides a combination of direct sales, market development and progressive distribution services within the building materials supply chain. We recognize that each customer, manufacturer and product has unique requirements and we customize our services to meet those needs. Parksite defines its position in the supply chain by investing resources in activities that result in accelerated market acceptance of new products. More information about Parksite and its products is available at http://www.parksite.com.
###