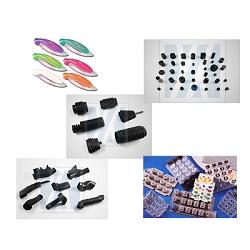 Taipei, Taiwan (Vocus/PRWEB) March 22, 2011
Established in 1981, Yuanyu keeps spreading its own business on rubber product. As can be seen, their achievement is not only stands out on the quality of the products but also the sincerity toward their customers. What's more, Yuanyu dedicate themselves to providing better quality of their merchandise. By getting several certifications over three decades, Yunayu has proved their ability to meet everyone's need. Aiming at international standards, their markets so far include Taiwan, South-East Asia, North-East Asia, North America and Europe.
Professional Products
Yuanyu Rubber Enterprise was started as a motor and machine rubber molding parts manufacturer, and then they concentrated on improving the quality of rubber injection molding machine and nitrogen de-flashing machine. They manufacture custom molded rubber products in any shapes, sizes, or materials such as Rubber dust boots, Air intake hoses, Rubber to metal bonding, Rubber Bushes, Rubber Buffers, Shock Absorber Rubber Parts, Rubber Gaskets, Diaphragms, Oil Seals, O-Rings, Packings, Keypads, Rubber Feet, Adhesive Backed Rubber Parts, Thermoplastic Elastomer Parts, and Liquid Silicone Parts(LSR). In order to keep up with the rapid development of technology, Yuanyu began to manufacture electronic related rubber products and had a great feedback. Since then, the diversity of the markets such as automotive, electronics, machine, medical, appliance, construction, sport gears and consumer products becomes a goal for Yuanyu to aim at. And now, Yuanyu is famous for their well-experienced manufacture customizes rubber products. They assist their customers through the whole manufacturing process from material selection, designing suggestion, molds development, and production.
Besides the good quality of products and customer's services, Yuanyu also continuously better their equipments and technique. They had brought in diversity of automobile machines like rubber interjection molding machine, vacuum compression molding machine, compression molding machine, silicon rubber injection molding machine, liquid silicone injection molding machine and nitrogen de-flashing machine to meet the great needs of their customers, lower the cost of the production and also, carry out the products on time. What's more, the post-curing machine, also known as multi-stage temperature regulator, helps to improve the stability of dimension, ameliorate the property of material and dispel volatiles during the process. With such complete equipments, Yuanyu undoubtedly stands out from other competitors.
Iso- Certification Tells
The reason why Yuanyu has continuously success is because they focus on the high-standard quality of their goods. By seeing that providing an outstanding competitive ability is a must, Yuanyu keeps improving their employees' motivation to provide stable and reliable products to their customers. In 1999, Yuanyu passed International quality standards such as ISO9000 Series examination with ISO-9002 certificated. After a year, they got the certification of ISO-9001. Along with the development of reliable and satisfying products, they got another ISO-9001 certification by the year of 2008.
More than Better
In order to check on the quality of the products during the whole producing process, Yuanyu owns a set of complete testing equipments to accomplish the goal. For example, when doing the basic material testing, all of the materials and products are inquired to go through the XRF testing machine. By doing this process, they can make sure their materials and products are suit for the RoHS (Restriction of Hazard substances), which was adopted by Europe Union in 2003. Besides, Yuanyu has regular experiment on the materials to make sure if they can meet the needs from customers. Except being professional in their business, Yuanyu also pays attention to the environment. Since the RoHS regards six restrictions of using toxic and hazardous substances, Yuanyu uses X-RAY Analysis to measure the amount of cadmium (Cd), lead (Pb), mercure (Hg), Bromine (Br) and Chromium (Cr). By doing this, they can make sure their products do not contain hazardous substances over limit.
For the good of their customers, Yuanyu promises to keep improving themselves and bringing their operation concepts to reality with all these fine systems.
Quality Control Equipments
1. Seiko XRF X-RAY Analysis for RoHS
2. 2.5D Vision Measuring System
3. Digital hardness measurement
4. Electronic densimeter
5. Ozone Tester Chamber
6. Digital tension meter
7. Rotorless Rheometer
8. Computerized Tensile Strength Tester
9. Aging Oven Tester
10.Digital densimeter
11.Carbon Black Dispersion tester
###