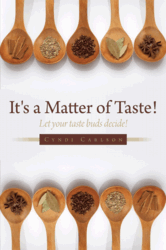 "They are not time consuming to make, and they're recipes that people look forward to eating."
Bloomington, Ind. (Vocus/PRWEB) March 01, 2011
Cyndi Carlson dishes up over 230 easy recipes to save time and avoid stress in It's a Matter of Taste!: Let your taste buds decide! She focuses on simple home cooking while sharing invaluable cooking tips, microwave shortcuts and baking advice.
Carlson proves it doesn't take complicated techniques or several stops at specialty grocery stores to make fabulous meals for your family and friends. Her recipes are easy to make, but still have a delicious flavor that makes a satisfying dish. It's a Matter of Taste is the perfect kitchen companion for busy home cooks who still want wonderful flavor.
"I wanted to make a collection of recipes that I knew a lot of people would like and that wouldn't take much time to prepare," says Carlson. "They are not time consuming to make, and they're recipes that people look forward to eating."
The book's recipes demonstrate Carlson's talent for transforming easy-to-find ingredients into divine meals you can make without stress. To start, nibble on Creamy Pesto Tomato Dip served with warm crackers. For lunch, Carlson makes BLT Wraps and Parmesan Zucchini Chips. For dinner, try Grilled Beef Tenderloin with Asparagus Fettuccine. Top it off with Chunky Dark Chocolate Peanut Butter Cookies or Angel Food Pineapple Delight.
Carlson's forte is baking and one of her favorite recipes is super easy and down home delicious— Crockpot Apple Crisp:
6 cup apples, sliced, peeled and cored
1 ¼ cup flour
1/3 cup oatmeal
¾ to 1 cup butter, softened
1 cup brown sugar
1 tablespoon cinnamon
1 cup powdered sugar
1 tablespoon lemon juice
Place the apples in a greased crock pot. In another bowl combine flour, oatmeal, butter, sugar and cinnamon and sprinkle of the top of the apples. Place a paper towel across the top of the crock pot and cover for 3 hours. When done, mix powered sugar and lemon juice and drizzle glaze of the top and serve.
About the Author: At an early age, author Cyndi Carlson and her sister were making dinner for her entire family, since their parents both worked full time. She deepened her love for cooking throughout the years, working at several restaurants and even a bakery. For the last 15 years Carlson and her husband have enjoyed traveling and sampling a variety of foods along the way. In her free time, she volunteers for Meals-On-Wheels and Crisis Pregnancy Center.
###