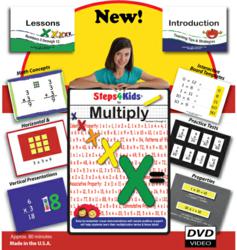 "A reusable affordable product to teach multiplication in homes and schools!"
Carlsbad, CA (Vocus/PRWEB) March 10, 2011
Steps4Kids publicly released its newest DVD: Steps4Kids to Multiply (Numbers 0 through 12) to support students in school and at home. The approximately 80 minute multiplication DVD includes public performance rights and no additional licensing fees so that parents and teachers can use the multiplication DVD to support classroom lessons or provide individual support.
"So often programs used at home cannot be used at school and vice versa because of licensing fees or the need for special devices. We make instructional DVDs because this form of technology can be used on existing devices at home and at school," says Lucile Lynch, co-founder of Steps4Kids, LLC. "Teachers and parents also like the fact that this is a reusable product that they can use with next year's class or younger siblings needing to learn multiplication at a later date."
Steps4Kids was invited to participate in the Balancing Act's Parent Teacher Corner as a guest author to discuss the uniqueness of its products and the affordability of the DVDs given the current fiscal climate affecting schools and homes. The numerous awards conferred upon the Steps4Kids DVDs also caught the show's attention. Within months of the release of its first product: Steps4Kids to Write their ABC's, the company learned it's first product had earned "DVD of the Year" (Creative Child Magazine), "Top 10 Audio Video Products" (Dr. Toy), a double star endorsement by KIDS FIRST! (Coalition for Quality Children's Media), and the 5 Star Award of Excellence from the Toy Man® (a retired school teacher and product evaluator). The Steps4Kids cursive DVD and modern manuscript DVD earned similar accolades.
Products to date include: Steps4Kids to Write Their ABCs (traditional printing DVD), Steps4Kids to Write Cursive, Steps4Kids to Write Modern Manuscript (e.g. D'Nealian or italicized printing), and Steps4Kids to Multiply (the first of the Steps4Kids math series). Additional products in the math and art areas are expected soon.
The projected air dates of the Balancing Act segment are: 7 - 8 am, April 27, 2011 and May 11, 2011 (to be aired on the Lifetime Channel).
Steps4Kids was co-found by parents and an occupational therapist in 2005. The company is currently run by Lucile Lynch, a two time recipient of the "Excellence in Supporting Students" award granted by a regional 14 school district consortium.
For product inquiries or questions, please contact Nancy Holt, 1-800-757-1702, x5.
# # #